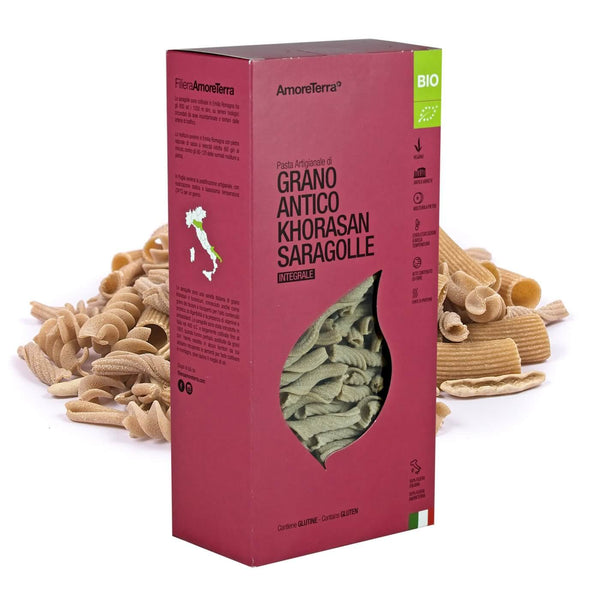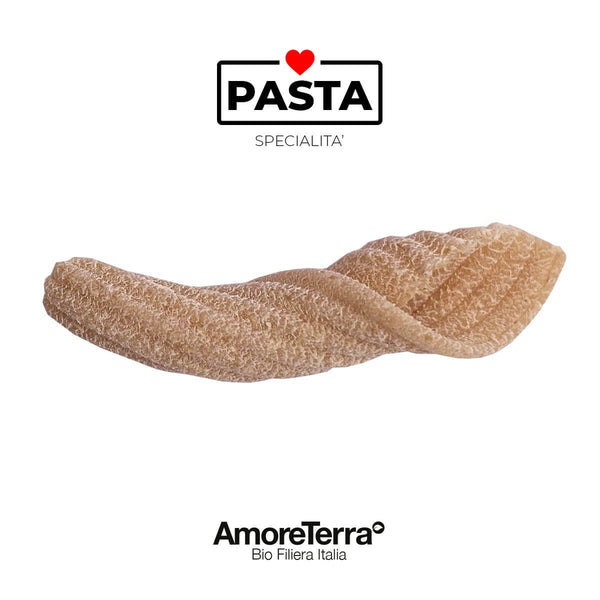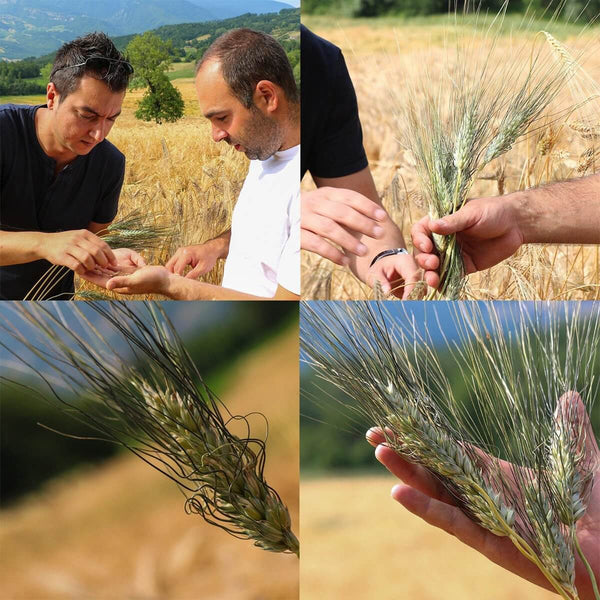 Torchietti khorasan
Net weight: 500g.
Try our Khorasan regional "Torchietti".
Ancient wheat also known as turanico (the same as Kamut®, which however is Canadian) arrived in Italy in 400 AD. and cultivated for centuries.
We found this variety from a farmer who has been growing it for generations and sown at over 1000 meters in the Modena Apennines on land left uncultivated for over 50 years.
We grind this grain in the stone mill of our supply chain and deliver it to the master pasta makers who bring to your table a pasta with high nutritional values and highly digestible compared to classic wheat, thanks to careful processing combined with drying at a low temperature.
Don't wait for this to go a long way by ship, eat Italian Khorasan.
Discover all the features by clicking on "Data sheet"
Ingrediants: Whole wheat semolina khorasan *, water. - * From organic farming.
Allergens: containing cereals GLUTEN, May contain traces of SOYBEAN And MUSTARD.
Origin of the grain: Italy
Country of milling: Italy
Scheda tecnica prodotto
Peso: 500 g
Certificazione: biologico
Produzione: Italia
Filiera AmoreTerra
Coltivazioni: 
IL Khorasan è coltivato in Emilia Romagna su terreni incontaminati.
Pastificazione: 
Si svolge in Puglia, Basilicata e Marche in pastifici storici ed artigianali, trafilatura al bronzo e essiccazione a bassa temperatura per ottenere il meglio da ogni formato.

Valori nutrizionali medi per 100 gr. di prodotto:
Energia: 1470 kJ / 347 kcal
Grassi: 3,5 g
di cui acidi grassi saturi: 0,8 g
Carboidrati: 65 g
di cui zuccheri: 5,9 g
Fibre: 8,1 g
Proteine: 13 g
Sale: <0,01 g
Metodo conservazione: Conservare in luogo fresco e asciutto.
Smaltimento prodotto:
Carta / plastica
Verifica le disposizioni del tuo comune.
📦 Discount card from -10% to -20% 12 months.
Join the AmoreTerra family to take advantage of a discount on your carts from -10% to -20%.
valid card on the whole catalog and for all purchases that you will perform in 12 months.
CARD FOR YOU

FAMILY CARD

Shopping cart discount:

10%

Discount on offers: NO


Duration (months): 12
Max orders: UNLIMITED

Coupon cost: 10€ only once
Go to the product for purchase

Shopping cart discount:

10%

Discount on offers: AND
Duration (months): 12


Max orders:

UNLIMITED
Coupon cost: 20€ only once
Go to the product for purchase