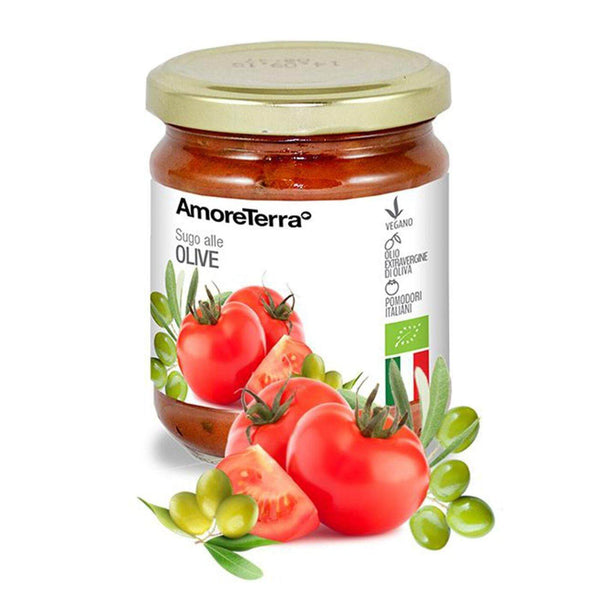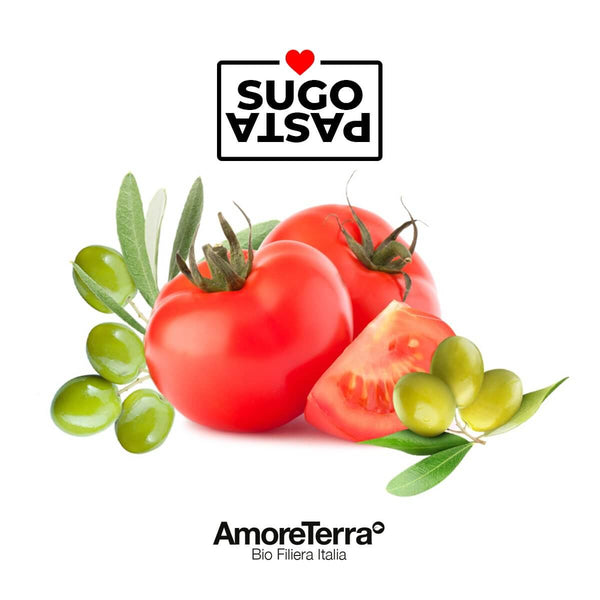 Sauce with olives
Net weight: 190g.
The AmoreTerra Ready Olive Sauce is a high quality organic product made with organic tomato, olives and high quality Coratina extra virgin olive oil, with the addition of celery, carrots and onions to give this dressing a richer taste.
Ingrediants: 81.5% Tomato * (pulp and puree), celery*, 4.9% olives *, carrots *, onions *, extra virgin olive oil *, salt - * Organic Ingredients
Tomato origin: Italy
Allergens: CELERY
Ready to use product.

Scheda tecnica prodotto
Peso: 190 g
Certificazione: biologico
Produzione: Italia
Filiera AmoreTerra
Pomodoro italiano

Valori nutrizionali medi per 100 gr. di prodotto:
Energia: 270 kJ/65 kcal
Grassi: 4,2 g
di cui acidi grassi saturi: 0,6 g
Carboidrati: 5,0 g
di cui zuccheri: 3,3 g
Fibre:
Proteine: 1,2 g
Sale: 1,4 g
Metodo conservazione: store in the refrigerator (0 / + 4 ° C) and use within 3-4 days
Smaltimento prodotto:
Vasetto: GL 70 Vetro
Capsula: C/FE 91 Metallo
Verifica le disposizioni del tuo comune.
Caratteristiche
Con i sughi pronti AmoreTerra sarete sicuri di portare in tavola il meglio della produzione biologica. Sono realizzati con le migliori materie prime e olio extravergine d'oliva di alta qualità
Ideale per:
Ideale per condire la pasta o il risotto, riscaldandolo leggermente prima dell'uso. Provalo anche sulle bruschette.
📦 Discount card from -10% to -20% 12 months.
Join the AmoreTerra family to take advantage of a discount on your carts from -10% to -20%.
valid card on the whole catalog and for all purchases that you will perform in 12 months.
CARD FOR YOU

FAMILY CARD

Shopping cart discount:

10%

Discount on offers: NO


Duration (months): 12
Max orders: UNLIMITED

Coupon cost: 10€ only once
Go to the product for purchase

Shopping cart discount:

10%

Discount on offers: AND
Duration (months): 12


Max orders:

UNLIMITED
Coupon cost: 20€ only once
Go to the product for purchase