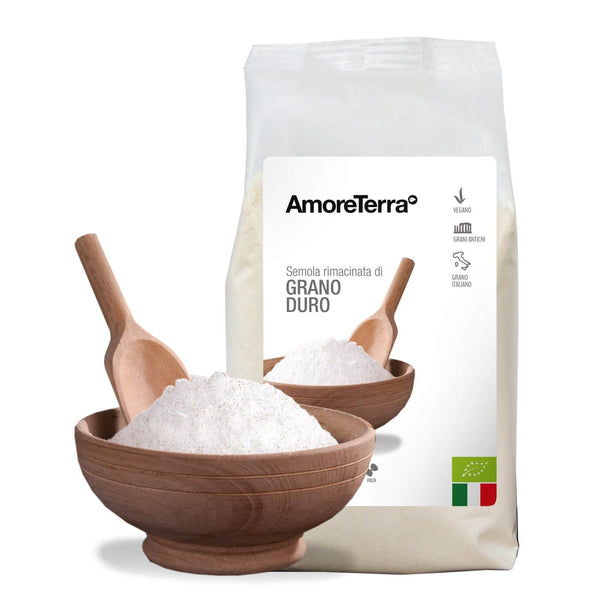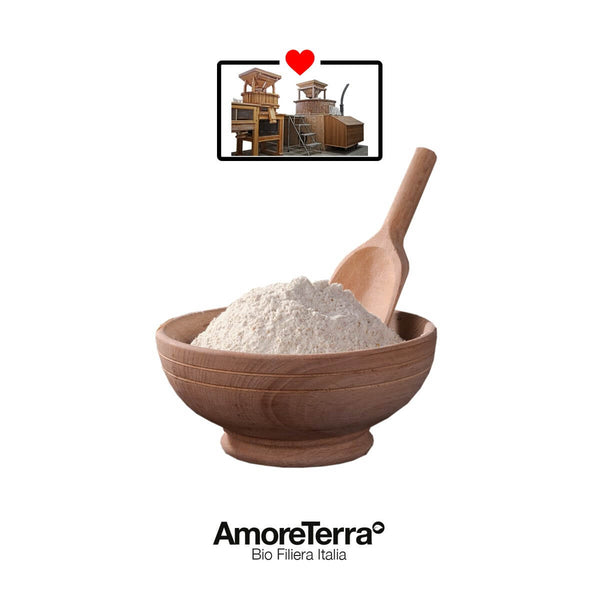 Remilled durum wheat semolina
Net weight: 500g.
Our semolina is obtained by grinding ancient varieties of durum wheat such as the Cappelli variety and the Khorasan. The aspect that identifies it is the consistency, taste and aromas it gives to its processed products. Its particle size is comfortable to the touch and easy to work with. The quality of this product is due to a supply chain of excellence that starts from the choice of varieties and soils, up to the choice of the mill for a minimally invasive transformation.
Organic product from AmoreTerra supply chain
Ingrediants: Semolina of GRAIN hard*. * From organic farming.
Allergens: Cereals containing GLUTEN, may contain traces of SOYBEAN And MUSTARD.
Origin of the grain: Italy
Country of milling: Italy
IDEAL FOR:
The re-milled durum wheat semolina is ideal for the preparation of bread, pizza, focaccia, fresh pasta, savory snacks and all baked goods, you can also cook an excellent savory strudel. It is possible to mix it with other flours or semolina.
CURIOSITY
Semolina-based bread making is increasingly making a comeback after it was replaced by soft wheat flour. For many centuries the Italian families kept durum wheat seeds, dried them and, when needed, they were ground into semolina and then made bread.
Scheda tecnica prodotto
Peso: 500 g
Certificazione: biologico
Produzione: Italia
Filiera AmoreTerra
Coltivazione: selezione di grani duri coltivati in Basilicata con la tecnica del miscuglio sul campo.
Molitura: in storico mulino marchigiano
Confezionata in atmosfera protettiva

Valori nutrizionali medi per 100 gr. di prodotto:
Energia: 1557 kJ/ 367 kcal
Grassi: 2 g
di cui acidi grassi saturi: 0,4 g
Carboidrati: 73 g
di cui zuccheri: 0,4 g
Fibre: 2,7 g
Proteine: 13 g
Sale: <0,003 g
Metodo conservazione: Conservare in luogo fresco e asciutto e buio.
Smaltimento prodotto:
OTHER 07 Film + etichetta Raccolta differenziata plastica.
Verifica le disposizioni del tuo comune.
📦 Discount card from -10% to -20% 12 months.
Join the AmoreTerra family to take advantage of a discount on your carts from -10% to -20%.
valid card on the whole catalog and for all purchases that you will perform in 12 months.
CARD FOR YOU

FAMILY CARD

Shopping cart discount:

10%

Discount on offers: NO


Duration (months): 12
Max orders: UNLIMITED

Coupon cost: 10€ only once
Go to the product for purchase

Shopping cart discount:

10%

Discount on offers: AND
Duration (months): 12


Max orders:

UNLIMITED
Coupon cost: 20€ only once
Go to the product for purchase