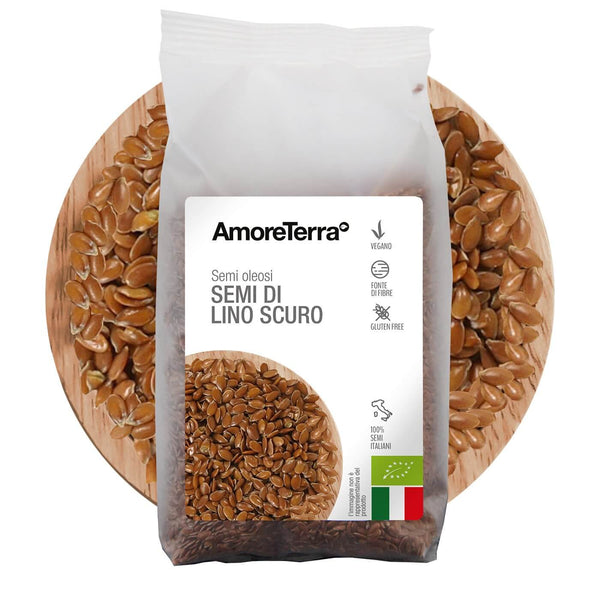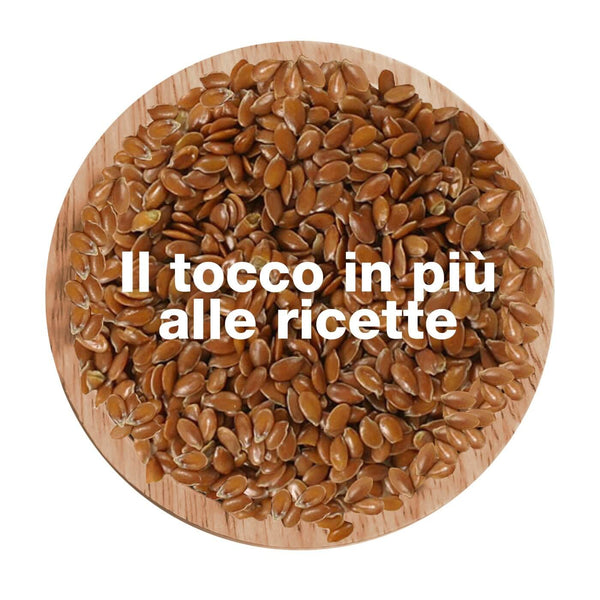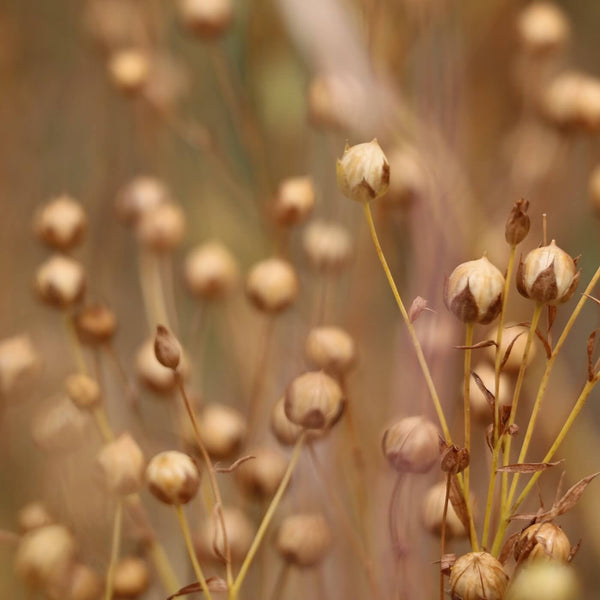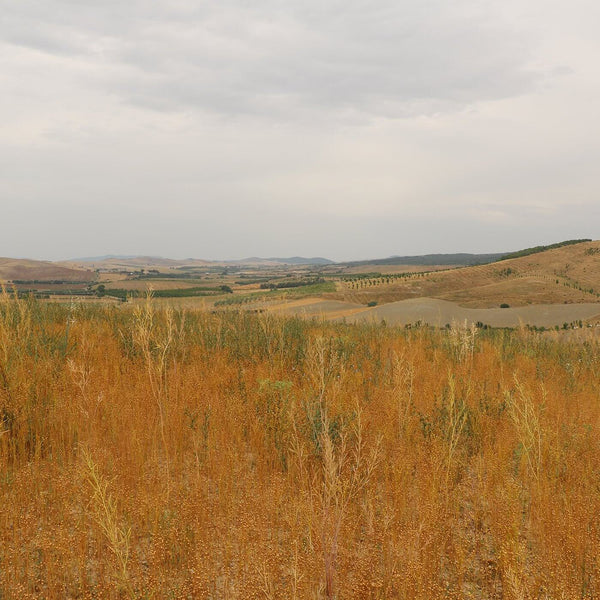 Dark flax seeds
Net weight: 400g.
For centuries, flax seeds (Linum usitatissimum) have been appreciated for their numerous beneficial properties for health and are among the oldest crops.
They are rich in omega-3, fiber and iron, true allies of our health.
Our seeds are born on Italian soils cultivated with the organic method, which is why we are able to obtain a seed of the highest quality.

Ingrediants: 

Flax seed

*

. * From organic farming. 


Origin
: Italy

Allergens:  It may contain traces of NUTS And SESAME

The packaging is in a protective atmosphere

Calcio: 179mg / 100g (22% VNR *)
Ferro: 14mg / 100g (39% VNR *)
Phosphorus: 438mg / 100g (62% VNR *)
Magnesio: 261 mg / 100g (69% VNR *)
Scheda tecnica prodotto
Peso: 500 g
Certificazione: biologico
Produzione: Italia

Valori nutrizionali medi per 100 gr. di prodotto:
Energia: 1994 kJ/ 483 kcal
Grassi: 36 g
di cui acidi grassi saturi: 4,0 g
Carboidrati: 2,3 g
di cui zuccheri: 2,3 g
Fibre: 29 g
Proteine: 23 g
Sale: 0,003 g
Metodo conservazione: Conservare in luogo fresco e asciutto lontano da fonti di calore e luce solare
Smaltimento prodotto:
OTHER 07 Film + etichetta Raccolta differenziata plastica.
Verifica le disposizioni del tuo comune.
Caratteristiche
I semi di lino non hanno un gusto particolarmente evidente, per consumarli e sfruttare le loro numerose proprietà consigliamo di utilizzarli per arricchire insalatone e yogurt ed anche per conferire maggiore croccantezza alle panature.
Se lasciati in ammollo in un bicchiere di acqua, rilascerano i loro preziosi nutrienti.
Se invece volete macinarli, otterrete un prodotto utile alla preparazione di pane, crackers, focacce, biscotti, minestre o vellutate.

BENEFICI NELLA DIETA

Assumere regolarmente semi di lino nella dieta significa apportare benessere al nostro organismo, nutrendolo, rinforzandolo e proteggendolo su più fronti, ti bastano un paio di cucchiai al giorno. 
I semi di lino li puoi mettere in ammollo per tutta la notte (coperti). Formeranno un liquido gelatinoso, ricco di mucillagini che conferiranno un ottimo toccasana al nostro intestino ed all'intero organismo.
Provvedi a filtrarli e poi bevi il liquido. I semi di lino assorbono acqua per circa cinque volte il loro peso, è quindi importante bere molti liquidi quando si consumano. Bisogna usare sempre semi molto freschi, integri, conservati in luoghi freschi, asciutti e al riparo dalla luce.
📦 Discount card from -10% to -20% 12 months.
Join the AmoreTerra family to take advantage of a discount on your carts from -10% to -20%.
valid card on the whole catalog and for all purchases that you will perform in 12 months.
CARD FOR YOU

FAMILY CARD

Shopping cart discount:

10%

Discount on offers: NO


Duration (months): 12
Max orders: UNLIMITED

Coupon cost: 10€ only once
Go to the product for purchase

Shopping cart discount:

10%

Discount on offers: AND
Duration (months): 12


Max orders:

UNLIMITED
Coupon cost: 20€ only once
Go to the product for purchase