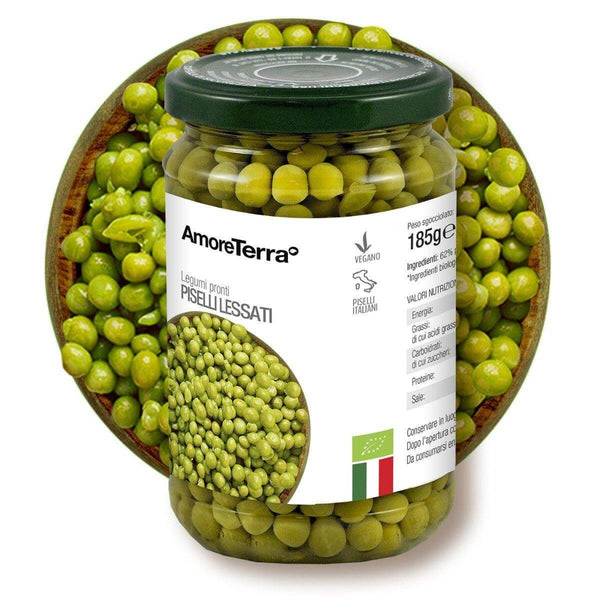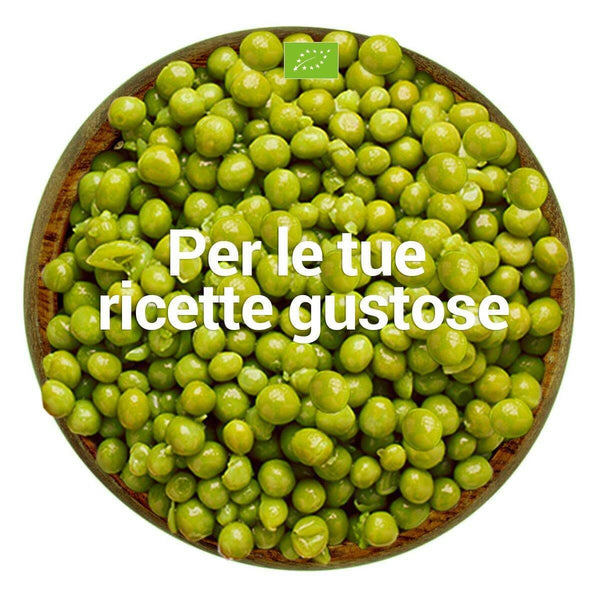 Boiled peas
Net weight: 300g.
Grown in Italy on organic soils and packaged in a dedicated bio laboratory with water and sea salt guaranteed by the AmoreTerra supply chain of excellence. Unsweetened. They are already boiled and ready to be used.
They do not create the classic problems of meteorism and aerophagia, typical of many other legumes.
Ingrediants: 62% Peas *, Water, sea salt - * Organic Ingredients
Origin of peas: Italy

Scheda tecnica prodotto
Peso: 300 g
Certificazione: biologico
Produzione: Italia
Trasformazione:
Nel torinese, In laboratorio situato ai piedi dell'arco alpino.

Valori nutrizionali medi per 100 gr. di prodotto:
Energia: 360 kJ/86 kcal
Grassi: 1,1 g
di cui acidi grassi saturi: 0,2 g
Carboidrati: 10 g
di cui zuccheri: 1,4 g
Fibre: -
Proteine: 5,1 g
Sale: 0,87 g
Metodo conservazione: Conservare in luogo fresco e asciutto. Dopo l'apertura consumare subito il prodotto.
Smaltimento prodotto:
Vasetto: GL 70 Vetro
Capsula: C/FE 91 Acciaio
Verifica le disposizioni del tuo comune
Caratteristiche
I piselli sono molto ricchi di acqua (79,4 g) e contengono 10,5 g di carboidrati, 5,1 g di proteine, 5,1 oltre a fibra, amido e 1,1 g di grassi. Non mancano poi minerali e vitamine: potassio, fosforo, calcio, magnesio, selenio, ferro, vitamina A, vitamina , vitamine del gruppo B, vitamina J evitamina K.
Tutti i legumi sono un'importante fonte di vitamine e di proteine di qualità
La caratteristica che li distingue è il fatto che siano particolarmente leggeri e, dunque, digeribili. Per questo motivo, non creano i classici problemi di meteorismo e aerofagia, tipici di tutti gli altri legumi eccezion fatta per le fave.
I legumi biologici AmoreTerra vengono coltivati secondo i metodi dell'agricoltura biologica sui stessi terreni dove vengono coltivati grani pregiati, secondo il metodo della rotazione delle colture che preserva la naturale presenza di sostanze organiche nel terreno. I nostri legumi sono coltivati in Italia
Ideale per:
Provali anche accompagnati con farro, orzo o altri cereali.
Cosa di può abbinare ai piselli?
Per assorbire meglio le proteine è bene mangiarli insieme a cereali, pasta e riso. – Per avere l'effetto depurativo si devono abbinare alle verdure come pomodori, insalate, zucca e melanzane. – Per avere minerali e grassi polinsaturi si possono abbinare con mandorle, nocciole e noci in zuppe e minestroni.
📦 Discount card from -10% to -20% 12 months.
Join the AmoreTerra family to take advantage of a discount on your carts from -10% to -20%.
valid card on the whole catalog and for all purchases that you will perform in 12 months.
CARD FOR YOU

FAMILY CARD

Shopping cart discount:

10%

Discount on offers: NO


Duration (months): 12
Max orders: UNLIMITED

Coupon cost: 10€ only once
Go to the product for purchase

Shopping cart discount:

10%

Discount on offers: AND
Duration (months): 12


Max orders:

UNLIMITED
Coupon cost: 20€ only once
Go to the product for purchase