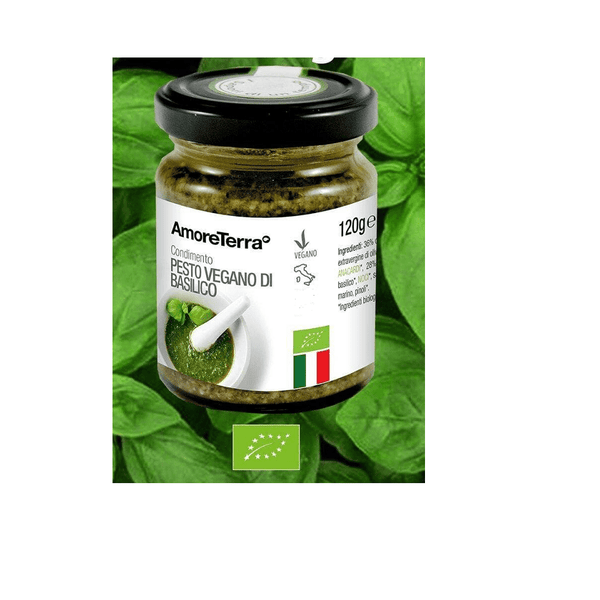 Vegan basil pesto
Net weight: 120g.
AmoreTerra's vegan basil pesto is made with Ligurian PDO Basil grown near Sarzana. It is pounded with cashews, walnuts, pine nuts and prepared only with quality Italian extra virgin olive oil. It is garlic free.
Ingrediants: 36% Extra virgin olive oil *, 28% ANACARDI*, 28% Basil *, NIGHTS*, sea salt, pine nuts * - * Organic Ingredients
Origin: Italy
Genoese basil DOP
Allergens: ANACARDI, NIGHTS

Ready to use product.

Scheda tecnica prodotto
Peso: 120 g
Certificazione: biologico
Produzione: Italia
Filiera AmoreTerra
"Basilico genovese DOP"

Valori nutrizionali medi per 100 gr. di prodotto:
Energia: 2368 kJ/578 kcal
Grassi: 60 g
di cui acidi grassi saturi: 11 g
Carboidrati: 7,8 g
di cui zuccheri: 2,3 g
Fibre: -
Proteine: 7,4 g
Sale: 3,0 g
Metodo conservazione: Dopo l'apertura conservare in frigorifero.
Smaltimento prodotto:
Vasetto: GL 70 Vetro
Capsula: C/FE 91 Acciaio
Verifica le disposizioni del tuo comune
Caratteristiche
Per chi segue una dieta vegana, sia per chi vuole provare un pesto diverso da quello tradizionale. Si sposa con tutti i formati di pasta lunga, soprattutto linguine e spaghetti, con un formato tipico della tradizione ligure come le trofie ed è perfetto anche con la pasta integrale.
Avete scelto una pasta integrale? Al di là del formato, è meglio abbinarla con un pesto perché tende ad assorbire molto sugo.
Ideale per:
Ideale per condire la pasta o il risotto, riscaldandolo leggermente prima dell'uso. Provalo anche per condire le lasagne al posto del pomodoro.
📦 Discount card from -10% to -20% 12 months.
Join the AmoreTerra family to take advantage of a discount on your carts from -10% to -20%.
valid card on the whole catalog and for all purchases that you will perform in 12 months.
CARD FOR YOU

FAMILY CARD

Shopping cart discount:

10%

Discount on offers: NO


Duration (months): 12
Max orders: UNLIMITED

Coupon cost: 10€ only once
Go to the product for purchase

Shopping cart discount:

10%

Discount on offers: AND
Duration (months): 12


Max orders:

UNLIMITED
Coupon cost: 20€ only once
Go to the product for purchase