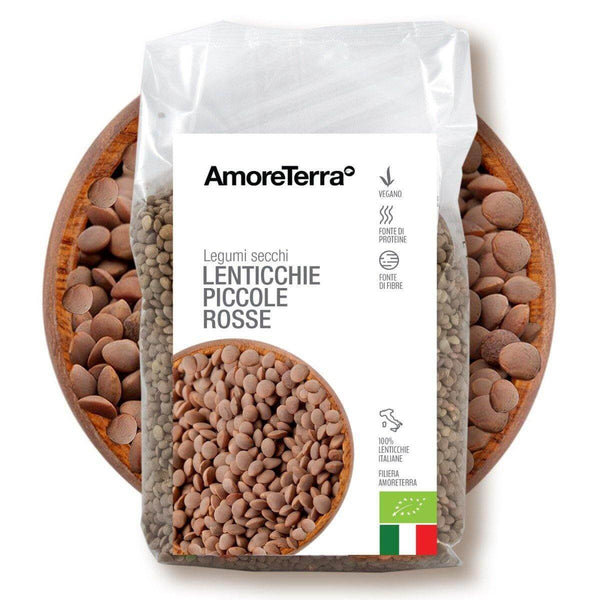 Small red lentils
Net weight: 400g.
These small red lentils, a fine Italian variety, do not need to be soaked, thanks to their small size it is sufficient to wash them under running water to remove any impurities and rehydrate them.
They have a delicate taste and a tender texture.
Ingrediants: Organic small red lentils*. * From organic farming. 
Origin of lentils: Italy
Allergens:  It may contain traces of  gluten, soy And nuts
The packaging is in a protective atmosphere
The Piccole Rosse lentils do not need to be soaked, but only to be washed in running water and then can be immediately boiled.
Scheda tecnica prodotto
Peso: 400 g
Certificazione: Organic
Produzione: Italy
Filiera AmoreTerra
Coltivazione:
Le lenticchie sono coltivate in Basilicata su terreni biologici circondati da aree incontaminate e lontani dalle arterie di traffico.
Trasformazione:
Nel torinese, In laboratorio situato ai piedi dell'arco alpino.

Valori nutrizionali medi per 100 gr. di prodotto:
Energia: 1219 kJ/291 kcal
Grassi: 1,0 g
di cui acidi grassi saturi: 0,14 g
Carboidrati: 51 g
di cui zuccheri: 1,8 g
Fibre: 14 g
Proteine: 23 g
Sale: 0,02 g
Metodo conservazione: Store in a cool, dry and dark place.
Smaltimento prodotto:
OTHER 07 Film + label Plastic separate collection.
Check the provisions of your municipality.
Caratteristiche
Tutti i legumi sono un'importante fonte di vitamine e di proteine di qualità, forniscono minerali essenziali come Ferro, Calcio, Zinco, Potassio, Fosforo e Magnesio e alcune vitamine del complesso B ed E.
I legumi sono dei semi. Appartengono alle piante della famiglia delle leguminose, diffuse su tutto il pianeta. In Italia i legumi più utilizzati sono i fagioli, i piselli, le lenticchie, i ceci e le fave, meno diffusi i lupini e le cicerchie. Nel resto del mondo uno dei legumi più coltivati è la soia. Sono un alimento fondamentale all'interno di una sana alimentazione per il loro apporto di proteine, carboidrati, fibre e sali minerali (ferro, calcio, zinco, potassio, fosforo e magnesio).
I legumi secchi sono ricchi di proteine: mediamente il 25-30% dell'energia (ovvero delle calorie) è apportata proprio dalle proteine, mentre il restante soprattutto da carboidrati e in misura minore grassi.
Tuttavia il profilo degli aminoacidi presente nei legumi non è completo, in particolare sono carenti in metionina e cisteina, due aminoacidi essenziali che il nostro corpo non è in grado di sintetizzare da solo. Ovviare a questo problema è comunque molto semplice: basta abbinarli ai cereali (ad esempio alla pasta), il cui profilo aminoacidico è perfettamente complementare a quello dei legumi e consente di ottenere tutti gli aminoacidi essenziali. Non è necessario mangiarli insieme nello stesso pasto, basta assumerli entrambi all'interno della giornata.
ideale per:
Sono ottime per la preparazione di zuppe accompagnate anche da carote e sedano. Possono anche essere gustate miscelate alla pasta o come base per torte salate o contorni. Provale anche in insalata con pomodori di stagione e prezzemolo tritato.
Preparazione:
Le lenticchie Piccole Verdi e Rosse non hanno bisogno di ammollo, ma solo di essere lavate in acqua corrente e dopo possono essere subito lessate.
📦 Discount card from -10% to -20% 12 months.
Join the AmoreTerra family to take advantage of a discount on your carts from -10% to -20%.
valid card on the whole catalog and for all purchases that you will perform in 12 months.
CARD FOR YOU

FAMILY CARD

Shopping cart discount:

10%

Discount on offers: NO


Duration (months): 12
Max orders: UNLIMITED

Coupon cost: 10€ only once
Go to the product for purchase

Shopping cart discount:

10%

Discount on offers: AND
Duration (months): 12


Max orders:

UNLIMITED
Coupon cost: 20€ only once
Go to the product for purchase