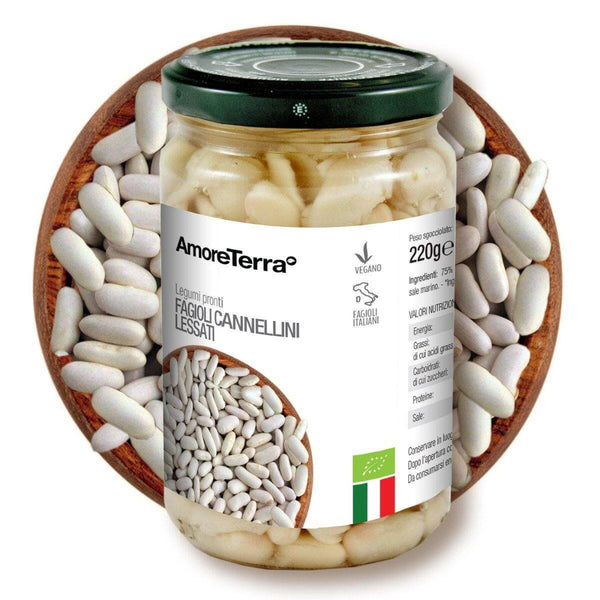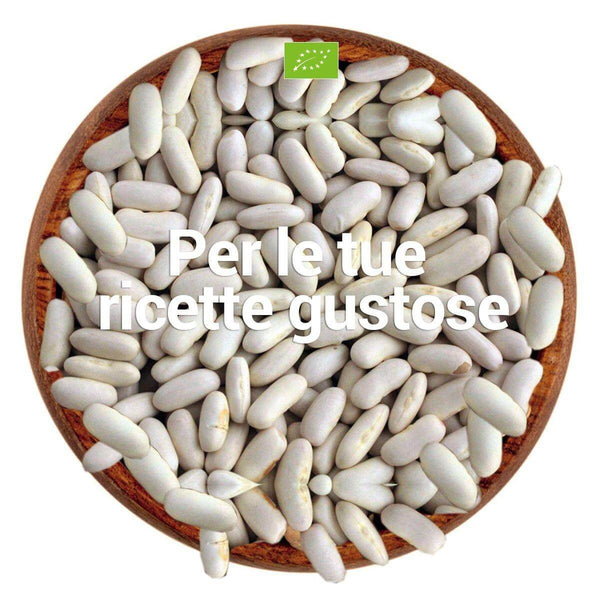 Boiled cannellini beans
Net weight: 300g.
AmoreTerra cannellini beans are a high quality food, grown in Italy with organic farming methods. Tasty and satisfying, particularly suitable for all people who struggle to eat vegetables regularly.
Ingrediants: Beans 75% *, water, sea salt * Organic ingredients.
Origin of the beans: Italy
Scheda tecnica prodotto
Peso: 300 g
Certificazione: biologico
Produzione: Italia
Trasformazione:
Nel torinese, In laboratorio situato ai piedi dell'arco alpino.

Valori nutrizionali medi per 100 gr. di prodotto:
Energia: 296 kJ/70 kcal
Grassi: 0,6 g
di cui acidi grassi saturi: 0,1 g
Carboidrati: 10 g
di cui zuccheri: 0,2 g
Fibre: -
Proteine: 4,3 g
Sale: 0,5 g
Metodo conservazione: Conservare in luogo fresco e asciutto. Dopo l'apertura consumare subito il prodotto.
Smaltimento prodotto:
Vasetto: GL 70 Vetro
Capsula: C/FE 91 Acciaio
Verifica le disposizioni del tuo comune
Caratteristiche
I fagioli cannellini sono legumi particolarmente ricchi di glucodrine, sostanze in grado di ridurre la glicemia e quindi sono particolarmente indicati per le persone che soffrono di diabete, soprattutto per quelle che faticano a mangiare con regolarità le verdure. Contengono anche lecitina, che consente di emulsionare i grassi non solo limitandone l'assorbimento nel sangue ma addirittura la loro persistenza e ciò li rende un alimento estremamente indicato per chi soffre di colesterolo alto o ha una dieta ricca di grassi.
I legumi della filiera di AmoreTerra vengono coltivati secondo i metodi dell'agricoltura biologica sugli stessi terreni sui quali coltiviamo i nostri grani pregiati, secondo il metodo della rotazione delle colture che preserva la naturale presenza di sostanze organiche nel terreno.
Tutti i legumi sono infatti un'importante fonte di vitamine e di proteine di qualità, forniscono minerali essenziali come Ferro, Calcio, Zinco, Potassio, Fosforo e Magnesio e alcune vitamine del complesso B ed E.
Ideale per:
Il prodotto è pronto per essere gustato o miscelato in ricette personalizzate.
📦 Discount card from -10% to -20% 12 months.
Join the AmoreTerra family to take advantage of a discount on your carts from -10% to -20%.
valid card on the whole catalog and for all purchases that you will perform in 12 months.
CARD FOR YOU

FAMILY CARD

Shopping cart discount:

10%

Discount on offers: NO


Duration (months): 12
Max orders: UNLIMITED

Coupon cost: 10€ only once
Go to the product for purchase

Shopping cart discount:

10%

Discount on offers: AND
Duration (months): 12


Max orders:

UNLIMITED
Coupon cost: 20€ only once
Go to the product for purchase