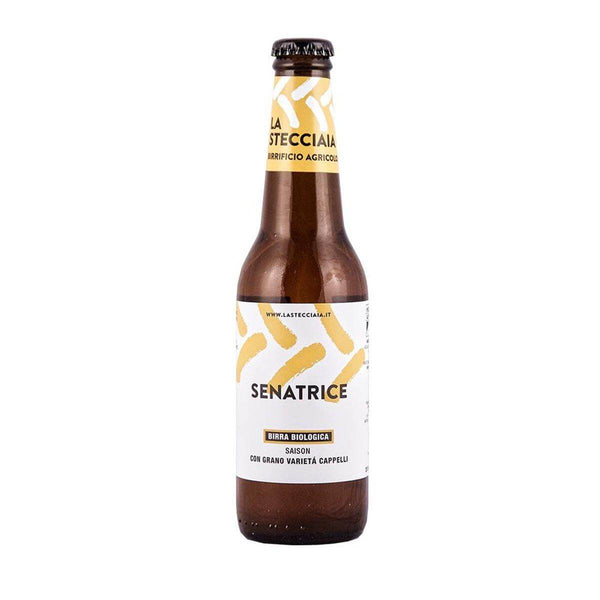 Senator beer
Format: 33 cl
Senatrice 33cl is a top-fermented organic craft beer, with the addition of the historic variety of durum wheat of the ancient Senatore Cappelli variety, refermented in the bottle, unpasteurized, unfiltered. The recipe is inspired by the Belgian "Saison" style, historically produced on farms. Golden color, with abundant foam. The nose reveals hints of clove, citrus and peppery notes. In the mouth, spicy notes and citrus notes due to the wheat, to pass to the herbaceous ones of hops. Lively carbonating. Dry and refreshing finish.

Alcohol content: 6.5% Vol. Serving temperature: 10 ° C.
AmoreTerra Supply Chain Partner (organic)
Ingrediants:
Water, malted barley, Cappelli wheat, hops, yeast.
FEATURES
Appearance:
Golden color. Abundant foam.
Aroma:
Malty and citrus scents.
Plato Grade:
13
Fermentation:
Unfiltered, unpasteurized, refermented in the bottle.
Likes:
Spicy and fruity initial notes that leave room for slightly herbaceous and peppery flavors in the finish, which is dry and refreshing.
Features:
100% Italian product, craftsmanship, vegan
Production:
Tuscany
Ideal for:
Appetizers of fish, vegetables, white meats, aged cheeses including pecorino and goats.
📦 Discount card from -10% to -20% 12 months.
Join the AmoreTerra family to take advantage of a discount on your carts from -10% to -20%.
valid card on the whole catalog and for all purchases that you will perform in 12 months.
CARD FOR YOU

FAMILY CARD

Shopping cart discount:

10%

Discount on offers: NO


Duration (months): 12
Max orders: UNLIMITED

Coupon cost: 10€ only once
Go to the product for purchase

Shopping cart discount:

10%

Discount on offers: AND
Duration (months): 12


Max orders:

UNLIMITED
Coupon cost: 20€ only once
Go to the product for purchase