(offer) 6 Pcs. Penne rigate Senatore Cappelli - artisanal, BIO, ancient grains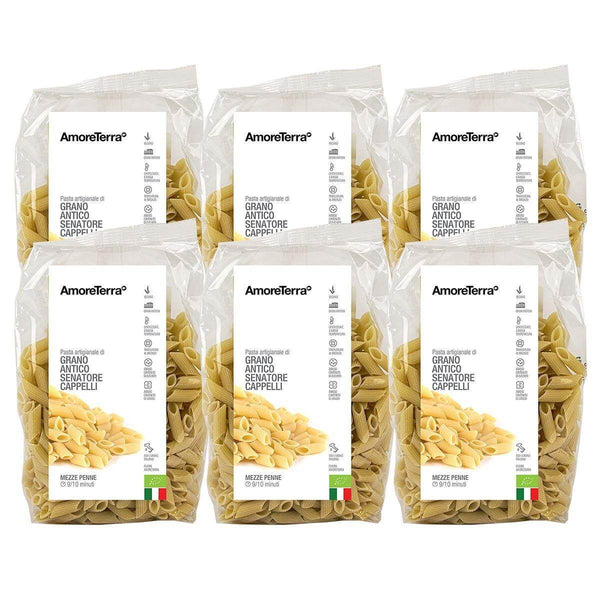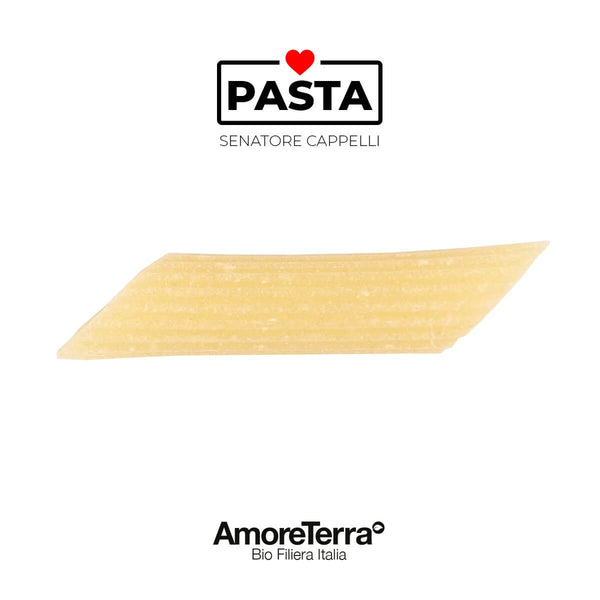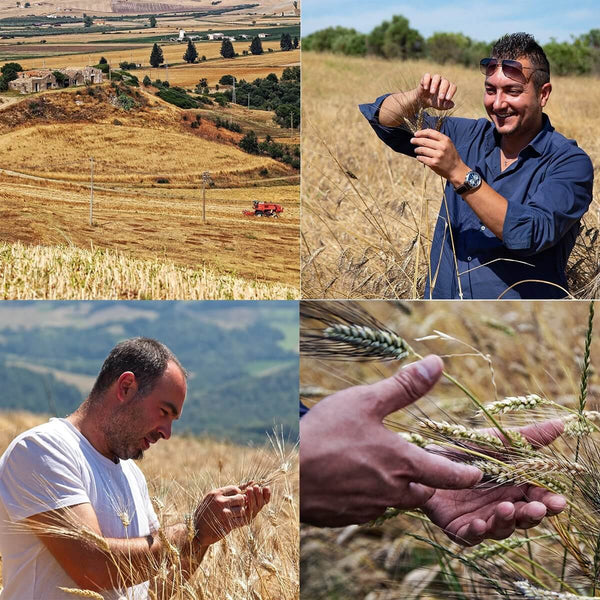 Penne rigate Senatore Cappelli
Peso netto: 3Kg.
If you are looking for the taste of Italian tradition, high digestibility, low values in terms of glycemic index and gluten, this is the pasta for you.
Our grandmothers they chose knew about it the grain Senatore Cappelli for their cooking. This wonderful grain is transformed in our stone mill and after a few days it is delivered to the master pasta makers, who masterfully bring it to your table a pasta with high nutritional values and highly digestible. The lower presence of gluten is favored by careful processing and drying at a low temperature.
Discover all the features by clicking on "Data sheet".
Ingrediants: Durum WHEAT semolina Senatore Cappelli variety *, water. * From organic farming.
Allergens: Cereals containing GLUTEN, may contain traces of SOYBEAN And MUSTARD.
Origin of the grain: Italy
Country of milling: Italy
Scheda tecnica prodotto
Peso: 3 Kg
Certificazione: biologico
Produzione: Italia
Filiera AmoreTerra
Coltivazioni Senatore Cappelli: 
Puglia, Basilicata ed Emilia Romagna su terreni incontaminati.
Pastificazione Senatore Cappelli: 
Si svolge in Puglia, Basilicata e Marche in pastifici storici ed artigianali, trafilatura al bronzo e essiccazione a bassa temperatura per ottenere il meglio da ogni formato.

Valori nutrizionali medi per 100 gr. di prodotto:
Energia: 1478 kJ/ 349 kcal
Grassi: 1,4 g
di cui acidi grassi saturi: 0,5 g
Carboidrati: 70 g
di cui zuccheri: 3 g
Fibre: 3 g
Proteine: 12 g
Sale: <0,01 g
Metodo conservazione: Conservare in luogo fresco e asciutto
Smaltimento prodotto:
PP 05 Film + etichetta Raccolta differenziata plastica.
Verifica le disposizioni del tuo comune.
7 reasons to choose our Senatore Cappelli pasta
Because it has a

 

unique taste, aromatic and persistent that brings with it all the flavors

 

of the

 

Italyn pasta making tradition.
Because it is 100% Italyn pasta prepared with

 

raw materials from our supply chain.
Because we grow our wheat where our grandparents used to grow it,

 

away from

 

industrialized areas

 

and road arteries.
Why is it

 

clinical study

 

carried out at the

 

A. Gemelli University Hospital

 

proves that the Cappelli variety is more

 

digestible

 

it's more

 

tolerable for those who are

 

sensitive to wheat, compared to other varieties.
Because it is prepared with

 

traditional method

 

which preserves the

 

organoleptic properties

 

And

 

nutritional

 

of wheat.
Why do we cook

 

very fresh semolina

 

within 72 hours of milling, follows

 

bronze drawing

 

and one

 

slow drying

 

at low temperature.
Why ours

 

pasta

 

And

 

ethics, in fact, the entire supply chain is structured in

 

respect for the environment, of the

 

farmers

 

and gods

 

consumers.
Scientific research Senatore Cappelli
In support of our choice oriented to the protection of ancient grains and in relation to their properties, we recommend reading the study of the A. Gemelli University Polyclinic Foundation. Their research confirms that Senatore Cappelli pasta promotes a significant reduction in gastrointestinal symptoms, less swelling and numbness.
(The study data were obtained by comparison with pasta produced through the use of a standard commercial grain)
📦 Discount card from -10% to -20% 12 months.
Join the AmoreTerra family to take advantage of a discount on your carts from -10% to -20%.
valid card on the whole catalog and for all purchases that you will perform in 12 months.
CARD FOR YOU

FAMILY CARD

Shopping cart discount:

10%

Discount on offers: NO


Duration (months): 12
Max orders: UNLIMITED

Coupon cost: 10€ only once
Go to the product for purchase

Shopping cart discount:

10%

Discount on offers: AND
Duration (months): 12


Max orders:

UNLIMITED
Coupon cost: 20€ only once
Go to the product for purchase