Rye trucioli (regional) - artisanal, BIO, 250g.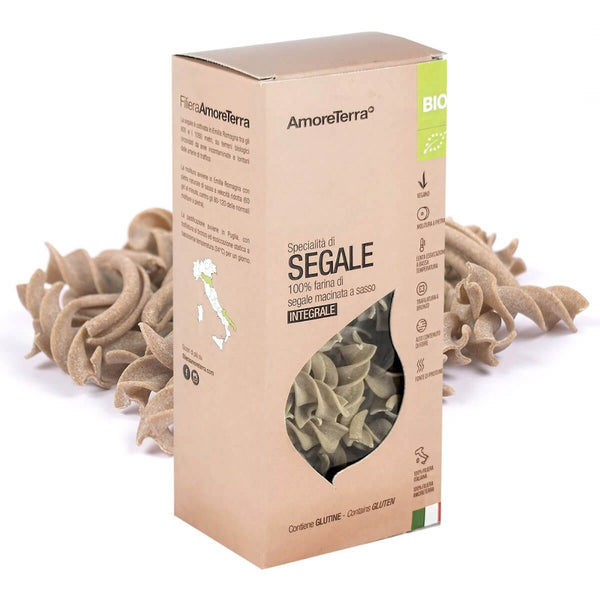 Rye shavings
Net weight: 250g.
try this specialty 100% stone ground wholemeal rye flour.
We cultivate it cultivated in Emilia Romagna between 800 and 1050 meters and ground in the same place through a stone mill.
Ingrediants: Rye flour *, water. * From organic farming.
Allergens: containing cereals GLUTEN, may contain traces of SOYBEAN And MUSTARD.
Origin of the grain: Italy
Country of milling: Italy
Scheda tecnica prodotto
Peso: 250 g
Certificazione: icea_biologico
Produzione: Italia
Filiera AmoreTerra
Coltivazioni: 
La Segale è coltivata In Emilia Romagna tra gli 800 e i 1050 metri, su terreni biologici circondati da aree incontaminate e lontani dalle arterie di traffico.
Pastificazione: 
Avviene in Puglia, trafilata al bronzo ed essiccata a bassa temperatura. (farina Macinata a sasso per offrire una pasta dal sapore molto delicato).

Valori nutrizionali medi per 100 gr. di prodotto:
Energia: 1247 kJ / 294 kcal
Grassi: 1,8 g
di cui acidi grassi saturi: 0,5 g
Carboidrati: 59 g
di cui zuccheri: 3,3 g
Fibre: 14 g
Proteine: 11 g
Sale: 0,01 g
Metodo conservazione: Conservare in luogo fresco e asciutto.
Smaltimento prodotto:
Carta / Plastica
Verifica le disposizioni del tuo comune.
📦 Discount card from -10% to -20% 12 months.
Join the AmoreTerra family to take advantage of a discount on your carts from -10% to -20%.
valid card on the whole catalog and for all purchases that you will perform in 12 months.
CARD FOR YOU

FAMILY CARD

Shopping cart discount:

10%

Discount on offers: NO


Duration (months): 12
Max orders: UNLIMITED

Coupon cost: 10€ only once
Go to the product for purchase

Shopping cart discount:

10%

Discount on offers: AND
Duration (months): 12


Max orders:

UNLIMITED
Coupon cost: 20€ only once
Go to the product for purchase