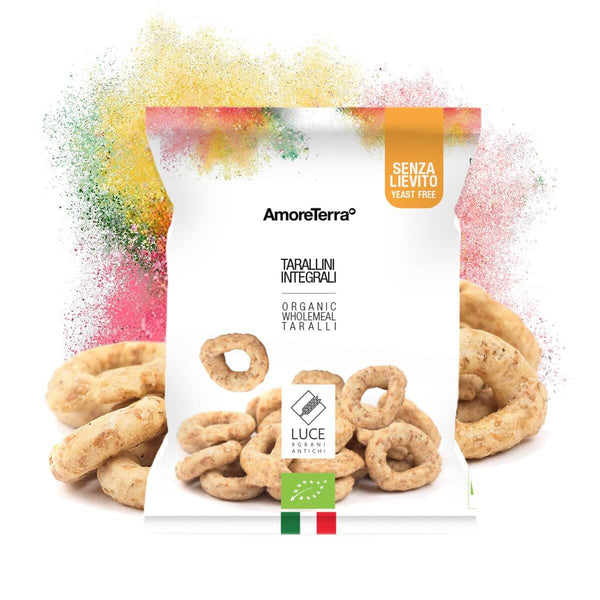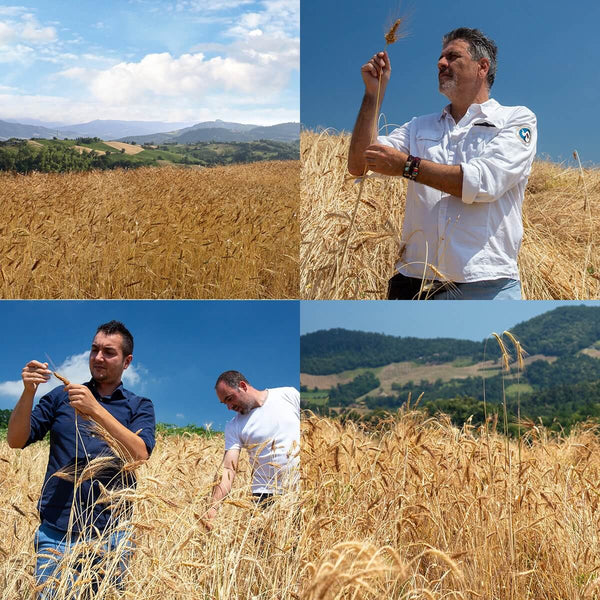 Tarallini with Farina Luce® 9 ancient grains.
Net weight: 40g.
Handmade taralli with Senatore Cappelli durum wheat semolina flour, extra virgin olive oil, natural yeast, no milk, no eggs.
Made with Farina Luce (Gentil Rosso, Mentana, Verna, Marzuolo, Autonomia, Inallettabile, Terminillo, Risciola and wheat of the miracle), flour developed by cultivating 9 ancient grains on the same field.
Without yeast! These artisanal tarallini are made with only 4 ingredients: wholemeal flour, extra virgin olive oil, white wine and salt.
The full and persistent taste is given to Farina Luce, a flour developed by AmoreTerra to rediscover the taste of the wheat of the past. To do this, we cultivated 9 ancient grains on the same field, obtaining a flour with a very high biodiversity, rich in nuances and aromas and with the beneficial properties of all these varieties together.
Ingrediants:
63.78% wholemeal flour mix ancient grains Luce® *, white wine *, extra virgin olive oil *, salt. * From organic farming
Allergens: CONTAINS GLUTEN 
It may contain traces of SESAME And SOYBEAN

Scheda tecnica prodotto
Peso: 40 g
Certificazione: biologico
Produzione:
Filiera AmoreTerra
Coltivazione 9 grani antichi:
Emilia Romagna su terreni incontaminati.
Molitura:
Emilia Romagna in mulino storico artigianale (adiacente ai campi) con pietra di sasso così da evitare il riscaldamento e lasciare inalterati tutti gli aspetti organolettici e nutrizionali.
Lavorazione:
Preparato in Puglia con i nostri 9 cereali (farina Luce®).

Valori nutrizionali medi per 100 gr. di prodotto:
Energia: 1995 kJ/ 475 kcal
Grassi: 17 g
di cui acidi grassi saturi: 2,0 g
Carboidrati: 66 g
di cui zuccheri: 1,6 g
Fibre: 7,0 g
Proteine: 12 g
Sale: 1,70 g
Metodo conservazione: Non tenere esposto a luce solare diretta
Smaltimento prodotto:
07 PP PET Plastica
Verifica le disposizioni del tuo comune.
📦 Discount card from -10% to -20% 12 months.
Join the AmoreTerra family to take advantage of a discount on your carts from -10% to -20%.
valid card on the whole catalog and for all purchases that you will perform in 12 months.
CARD FOR YOU

FAMILY CARD

Shopping cart discount:

10%

Discount on offers: NO


Duration (months): 12
Max orders: UNLIMITED

Coupon cost: 10€ only once
Go to the product for purchase

Shopping cart discount:

10%

Discount on offers: AND
Duration (months): 12


Max orders:

UNLIMITED
Coupon cost: 20€ only once
Go to the product for purchase