Taralli Double Goodness with rye and spelled, with EVO oil and natural yeast (without: milk and eggs) - Bio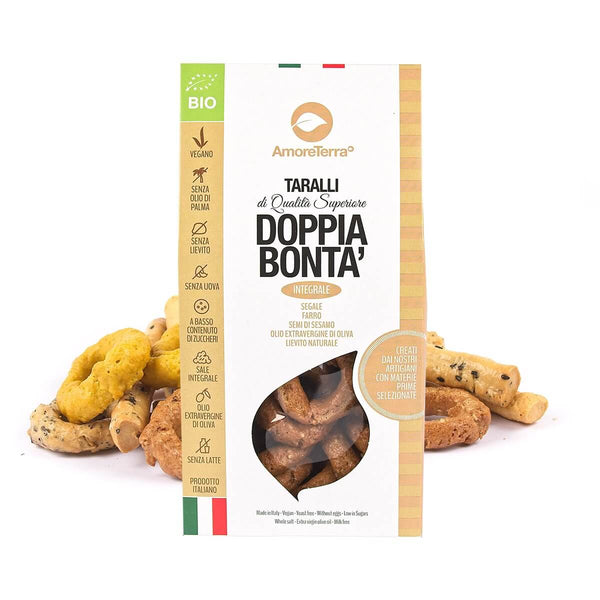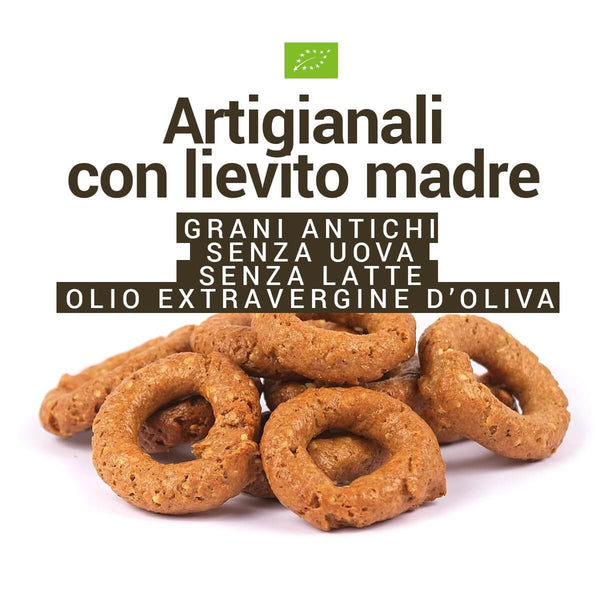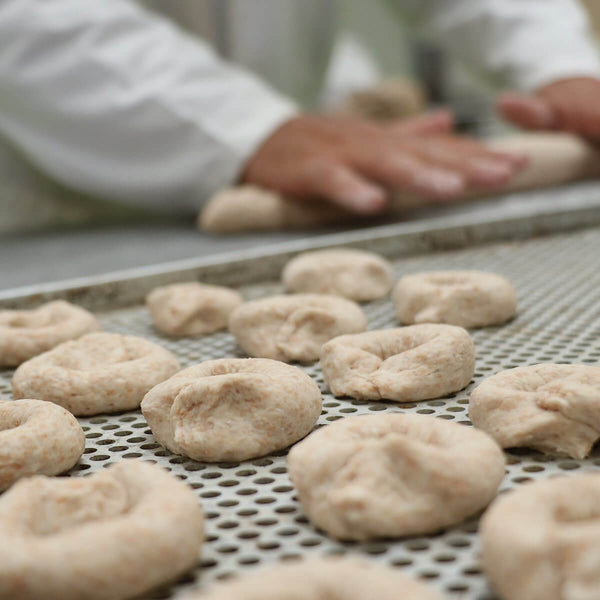 Taralli with rye and spelled
Net weight: 150g.
Handmade taralli with Senatore Cappelli durum wheat semolina flour, extra virgin olive oil, natural yeast, no milk, no eggs.
Ingrediants:
Wholemeal rye flour * 42%, wholemeal spelled flour * 35%, extra virgin olive oil * 14%, White wine * 5% (naturally contains sulphites), SESAME* 2%, whole sea salt * 2% - * Organic ingredients
Allergens:
Contains GLUTEN, SESAME. In the production laboratory, products based on are also used SOY, FRUIT A SHELL, MILK and derivatives.

Scheda tecnica prodotto
Peso: 150 g
Certificazione: biologico
Produzione: Italia
Filiera AmoreTerra
Lavorazione:
Preparati in Puglia in un piccolo laboratorio artigiano.

Valori nutrizionali medi per 100 gr. di prodotto:
Energia: 1861 kJ/445 kcal
Grassi: 13,1g
di cui acidi grassi saturi: 1,7g
Carboidrati: 70,9g
di cui zuccheri: 2,7g
Fibre: -
Proteine: 10,9g
Sale: 2,2g
Metodo conservazione: Conservare in luogo fresco e asciutto.
Smaltimento prodotto:
Carta / Plastica
Verifica le disposizioni del tuo comune.
Features Taralli
Information:

The AMORETERRA oven line is made up of artisanal products based on ancient grains grown in Italy with the organic method. The transformations are carried out in small traditional bakeries. The recipes wink at tradition but are all revised to make the final product better from a nutritional, healthy and organoleptic point of view. In this way we have created perfect snacks, the breaks of the day, healthy and nutritious, as well as tasty.
📦 Discount card from -10% to -20% 12 months.
Join the AmoreTerra family to take advantage of a discount on your carts from -10% to -20%.
valid card on the whole catalog and for all purchases that you will perform in 12 months.
CARD FOR YOU

FAMILY CARD

Shopping cart discount:

10%

Discount on offers: NO


Duration (months): 12
Max orders: UNLIMITED

Coupon cost: 10€ only once
Go to the product for purchase

Shopping cart discount:

10%

Discount on offers: AND
Duration (months): 12


Max orders:

UNLIMITED
Coupon cost: 20€ only once
Go to the product for purchase