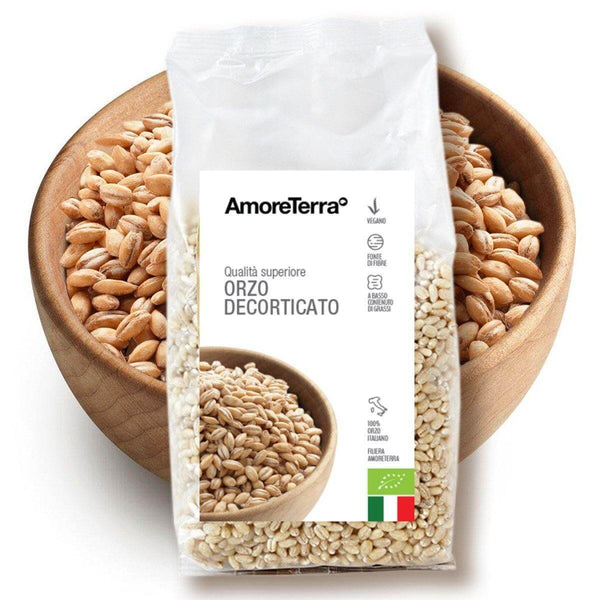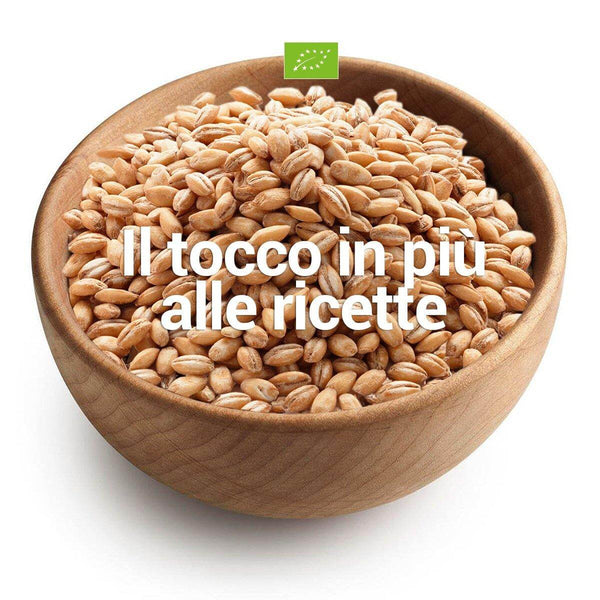 Hulled barley
Net weight: 400g.
Hulled barley is a high quality food, grown in Italy with organic farming methods.
It has remineralizing properties, in fact it contains a fair amount of phosphorus, potassium, magnesium, iron, zinc, silicon and calcium. It also contains B vitamins and vitamin E.
In addition to its taste, it is excellent for constipation and digestive problems.
Ingrediants: Barley*. * From organic farming. 
Origin of barley: Italy
Allergens:  Contains SESAME, SOYA And NUTS
The packaging is in a protective atmosphere
Scheda tecnica prodotto
Peso: 400 g
Certificazione: biologico
Produzione: Italia
Filiera AmoreTerra
Coltivazione: Emilia Romagna, Puglia e Basilicata
Decorticatura: Emilia Romagna.

Valori nutrizionali medi per 100 gr. di prodotto:
Energia: 1481 kJ/354 kcal
Grassi: 2,30 g
di cui acidi grassi saturi: 0,48 g
Carboidrati: 73 g
di cui zuccheri: 0,80 g
Fibre: 17 g
Proteine: 12 g
Sale: 0,04 g
Metodo conservazione: Conservare in luogo fresco e asciutto e buio.
Smaltimento prodotto:
OTHER 07 Film + etichetta Raccolta differenziata plastica.
Verifica le disposizioni del tuo comune.
Caratteristiche
L'orzo è ricco di proteine, fibre, sali minerali (calcio, ferro, fosforo, potassio, magnesio, zinco e silicio) e di vitamine (A1, B1, B2, B3, E). Tra i sali minerali prevale il fosforo, fondamentale per chi svolge un'attività intellettuali. E' un cereale con proprietà antidiarroiche, emollienti, rimineralizzanti, diuretiche e rinfrescanti. L'orzo è anche noto per la sua proprietà galattogena, cioè di stimolo alla produzione di latte materno.
Ideale per:
Ideale per zuppe, minestre e insalate fredde. Provalo anche per realizzare delle deliziose polpette, impastandolo con un mix di verdure di stagione e insaporito con le spezie.
Preparazione:
Lasciare in ammollo per 3 ore e cucinare per circa 30 minuti in acqua bollente. 
📦 Discount card from -10% to -20% 12 months.
Join the AmoreTerra family to take advantage of a discount on your carts from -10% to -20%.
valid card on the whole catalog and for all purchases that you will perform in 12 months.
CARD FOR YOU

FAMILY CARD

Shopping cart discount:

10%

Discount on offers: NO


Duration (months): 12
Max orders: UNLIMITED

Coupon cost: 10€ only once
Go to the product for purchase

Shopping cart discount:

10%

Discount on offers: AND
Duration (months): 12


Max orders:

UNLIMITED
Coupon cost: 20€ only once
Go to the product for purchase