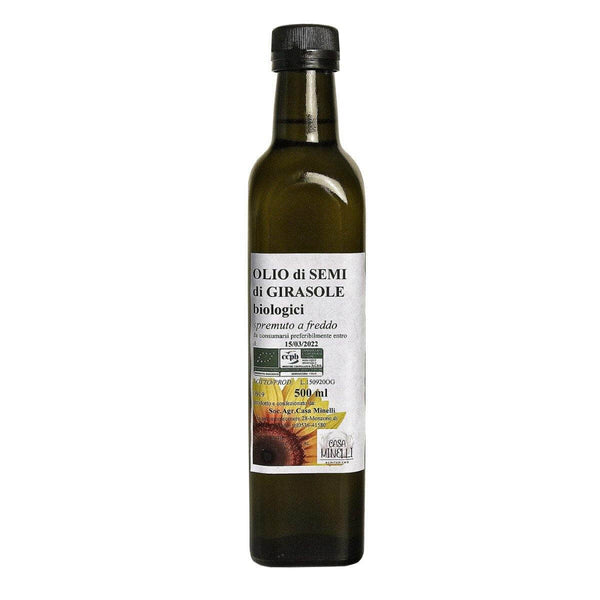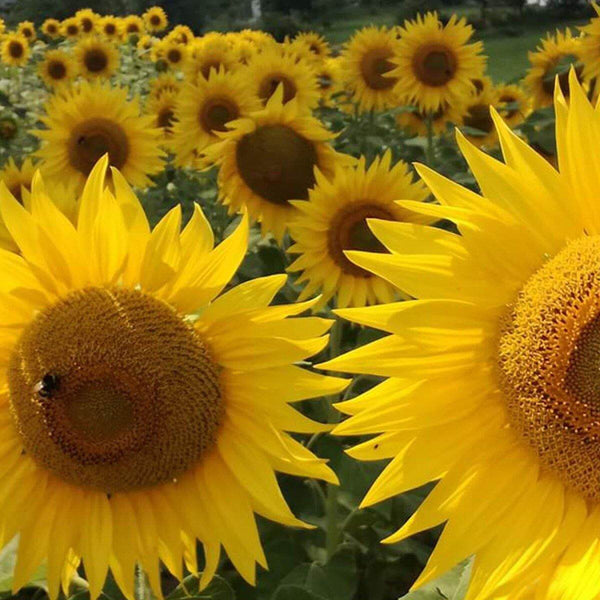 Italian sunflower oil

Peso netto: 500 ml
Italian sunflower seed oil, cultivation and production in the Modenese Apennines at 800 meters above sea level, cold pressed without any additional treatment.
Sunflower Seed Oil preserves all the properties contained in the precious Seeds.
Obtained by cold pressing, the only process that keeps its active ingredients intact. Sunflowers and its prized product come from organic cultivation that respects the environment and the naturalness of the product itself, the ideal companion to enrich salads and other gastronomic preparations.
AmoreTerra Supply Chain Partner (organic)
Ingrediants:
100% Sunflower Seed Oil.
FEATURES
Features:
100% Italian product, Cold extraction, Vegan
Storage:
Store in a cool, dry and dark place.
Information:
Among the properties of the active ingredients of Sunflower Oil is that of being a powerful antioxidant.
High content of polyunsaturated fatty acids and vitamin E.
Ideal for:
They are ideal for salads, cold dishes and aperitifs. The most common use of Sunflower Oil is in the kitchen, usually for frying, or used in recipes that do not have to do with cooking food. Using it raw enhances its organoleptic qualities.
It is especially ideal for dressing vegetables, for preparing sauces with which to flavor rice and pasta and for creating confectionery products. It is also suitable for obtaining creamy homemade sauces and for preserving vegetables in oil.
📦 Discount card from -10% to -20% 12 months.
Join the AmoreTerra family to take advantage of a discount on your carts from -10% to -20%.
valid card on the whole catalog and for all purchases that you will perform in 12 months.
CARD FOR YOU

FAMILY CARD

Shopping cart discount:

10%

Discount on offers: NO


Duration (months): 12
Max orders: UNLIMITED

Coupon cost: 10€ only once
Go to the product for purchase

Shopping cart discount:

10%

Discount on offers: AND
Duration (months): 12


Max orders:

UNLIMITED
Coupon cost: 20€ only once
Go to the product for purchase