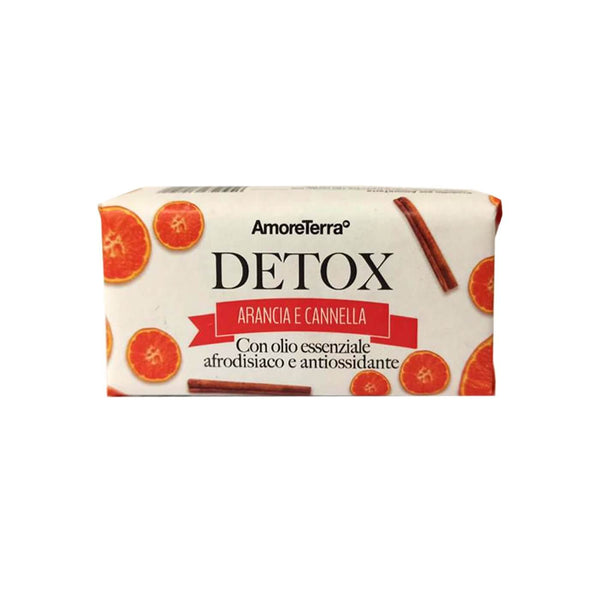 DETOX - Orange and Cinnamon

Net weight: 100g
Your natural soap for energetic and exfoliated skin.

Ideal for all skin types, it helps skin cell renewal.

Orange and Cinnamon, a wonderful combination!
L'ORANGE it has beneficial properties for the skin, rich in vitamins C and E, it helps to maintain it hydrated and healthy and is ideal for stimulate its regeneration and repair damaged tissues. Moreover, thanks to the presence of beta-carotene, this soap is highly appreciated, especially in summer, by those who love to lie in the sun and enjoy a nice tan for a long time.
There CINNAMON, on the other hand, it enjoys aphrodisiac properties that they give energy to the body and combined with orange rich in anti-oxidants favors blood circulation and helps reduce the damage of aging and cellulite, in addition to protecting against the activity of free radicals. 


CURIOSITY
The term Detox derives from the English and means detoxify, that is to free the body from substances with a toxic effect. This is possible thanks to the detoxifying and disinfecting function of the orange essential oil contained in the soap.
INGREDIANTS
Sodium Cocoate, Sodium Olivate, Aqua, Glycerin, Citrus Sinensis (Orange) Fruit Extract, Parfum, Sodium Chloride, Eugenol, Linalool, Amyl Cinnamal, Hexyl Cinnamal, Cinnamyl Alcohol, Tetrasodium Glutamate Diacetate, Geraniol, Citronellol, Butphenyl Metylpropional. * Essential oil of orange, cinnamon - *Biological
Scheda tecnica prodotto
Peso: 100 g
Filiera AmoreTerra
Smaltimento prodotto:
Incarto C/PAP81 Carta
Verifica le disposizione del comune
Caratteristiche
I nostri saponi 100% vegetali sono stati creati con una base di solo olio di oliva ed olio di cocco, evitando olio di palma, siliconi, parabeni e petrolati, al fine di rendere il sapone poco aggressivo, rispettoso del PH della nostra cute.
Grazie alla sua composizione naturale è completamente ecosostenibile e quindi rispettoso sia della nostra pelle che dell'ambiente.
Il profumo delicato e piacevole, rilascia un senso di benessere sia al nostro corpo che alla nostra mente.
"Dermatologicamente testato" 
La Saponeria delle Gravine è un laboratorio di produzione artigianale che fa parte della "Filiera AmoreTerra".
Un'attività che nasce a Castellaneta nel 2018 all' interno del Parco Naturale delle Gravine, un luogo ricco di risorse naturali valorizzato grazie alla dedizione di tre donne legate dall'amicizia e da passioni comuni:

La salvaguardia della natura e della biodiversitàLa ricerca di prodotti naturali orientati al benessere ed alla salute.L'amore per il territorio.
È da tutto questo che nascono i saponi AmoreTerra lavorati e confezionati a mano con tanto amore.

Per noi è importantissimo utilizzare tutto ciò che la natura generosamente ci offre: solo ingredienti provenienti dal nostro territorio, selezionati per le loro tipiche fragranze e proprietà naturali.
📦 Discount card from -10% to -20% 12 months.
Join the AmoreTerra family to take advantage of a discount on your carts from -10% to -20%.
valid card on the whole catalog and for all purchases that you will perform in 12 months.
CARD FOR YOU

FAMILY CARD

Shopping cart discount:

10%

Discount on offers: NO


Duration (months): 12
Max orders: UNLIMITED

Coupon cost: 10€ only once
Go to the product for purchase

Shopping cart discount:

10%

Discount on offers: AND
Duration (months): 12


Max orders:

UNLIMITED
Coupon cost: 20€ only once
Go to the product for purchase