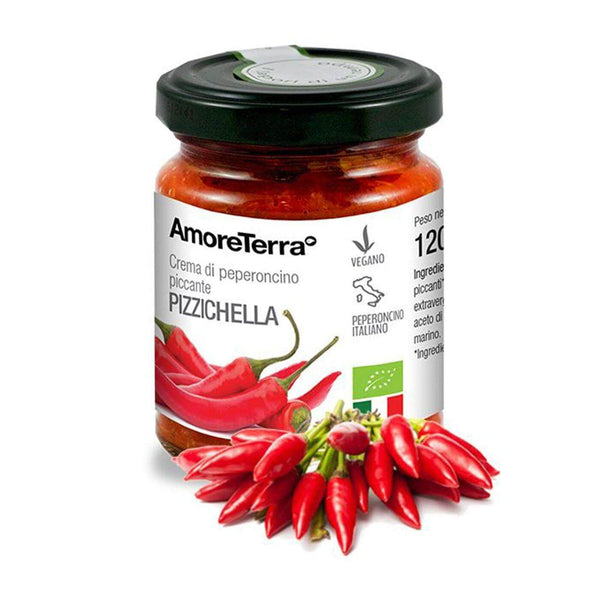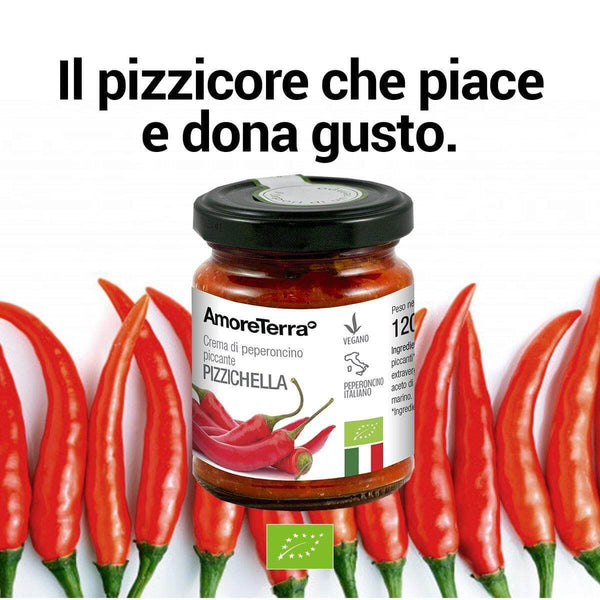 Pizzichella chilli cream.
Net weight: 120g.
Spicy cream made with Italian organic chillies and high quality extra virgin olive oil.
Ingrediants: 72% chilli *, extra virgin olive oil *, wine vinegar *, sea salt. - * Organic Ingredients
Origin: Italy

Ready to use product.

Scheda tecnica prodotto
Peso: 120g
Certificazione: biologico
Produzione: Italia
Filiera AmoreTerra

Valori nutrizionali medi per 100 gr. di prodotto:
Energia: 350 kJ/84 kcal
Grassi: 8,4 g
di cui acidi grassi saturi: 3,6 g
Carboidrati: 4,9 g
di cui zuccheri: 3,1 g
Fibre: -
Proteine: 2,1 g
Sale: 0,4 g
Metodo conservazione: Dopo l'apertura conservare in frigorifero.
Smaltimento prodotto:
Vasetto: GL 70 Vetro
Capsula: C/FE 91 Acciaio
Verifica le disposizioni del tuo comune
Caratteristiche
La linea di condimenti AmoreTerra porta sulla vostra tavola il gusto autentico delle materie prime coltivate con i metodi dell'agricoltura biologica, trasformate in modo tradizionale e poco invasivo..
Ideale per:
Il prodotto è pronto per essere gustato o miscelato in ricette personalizzate.
📦 Discount card from -10% to -20% 12 months.
Join the AmoreTerra family to take advantage of a discount on your carts from -10% to -20%.
valid card on the whole catalog and for all purchases that you will perform in 12 months.
CARD FOR YOU

FAMILY CARD

Shopping cart discount:

10%

Discount on offers: NO


Duration (months): 12
Max orders: UNLIMITED

Coupon cost: 10€ only once
Go to the product for purchase

Shopping cart discount:

10%

Discount on offers: AND
Duration (months): 12


Max orders:

UNLIMITED
Coupon cost: 20€ only once
Go to the product for purchase