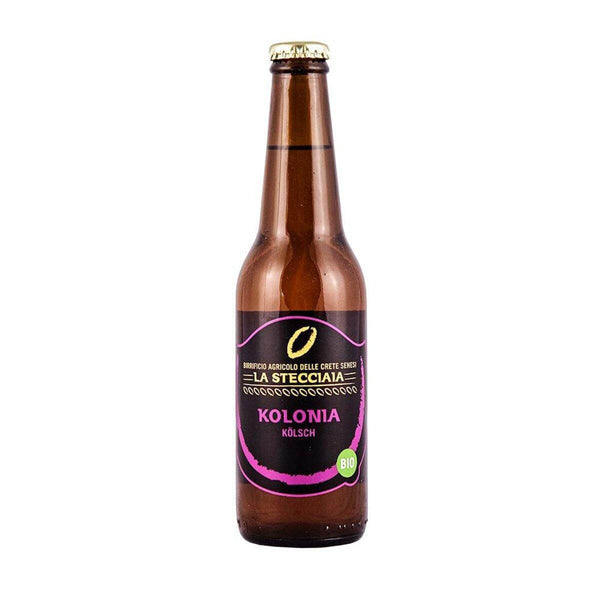 Kolonia craft beer
Format: 33 cl
High fermentation organic blonde beer, inspired by the German Kölsch style brewed in Cologne, refermented in the bottle. From organic farming. Serve at 8 ° C. Ingredients: water, barley malt, hops, yeast.

Alcohol content: 4.6 Vol. Serving temperature: 6-8 ° C.
AmoreTerra Supply Chain Partner (organic)
Ingrediants:
Water, malted barley, hops, yeast.
FEATURES
Appearance:
Light golden color, moderately hazy. Compact white foam.
Aroma:
Sweet grain aroma and subtle fruity aroma.
Plato Grade:
11,3
Fermentation:
Hybrid (high fermentation yeast at low temperature)
Likes:
Soft and round taste. Delicate malt taste with subtle and delicious fruity notes. Medium-low bitterness. Particularly clean and dry finish. Lightweight body. Very thirst-quenching beer.
Features:
100% Italian product, craftsmanship, vegan
Production:
Tuscany
Ideal for:
Excellent as a refreshing aperitif or combined with cold cuts, fish, white meats, salads or very fresh cheeses, pizza.
📦 Discount card from -10% to -20% 12 months.
Join the AmoreTerra family to take advantage of a discount on your carts from -10% to -20%.
valid card on the whole catalog and for all purchases that you will perform in 12 months.
CARD FOR YOU

FAMILY CARD

Shopping cart discount:

10%

Discount on offers: NO


Duration (months): 12
Max orders: UNLIMITED

Coupon cost: 10€ only once
Go to the product for purchase

Shopping cart discount:

10%

Discount on offers: AND
Duration (months): 12


Max orders:

UNLIMITED
Coupon cost: 20€ only once
Go to the product for purchase