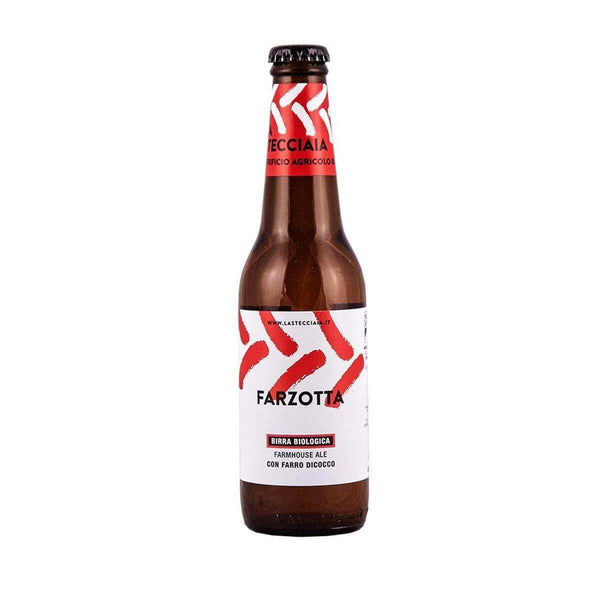 Farzotta beer with spelled
Format: 33 cl
Farzotta 33cl is a top-fermented organic craft beer, with the addition of spelled, refermented in the bottle, unpasteurized, unfiltered, with a deep golden color. On the nose, hints of white fruit (pear, banana) and cereals. In the mouth it is delicate and balanced, with malty notes and the sweetness brought by spelled. Fine carbonation. Moderately hoppy finish.

Alcohol content: 5.8% Vol. Serving temperature: 10 ° C.
AmoreTerra Supply Chain Partner (organic)
Ingrediants:
Water, malted barley, emmer, hops, yeast.
FEATURES
Appearance:
Deep golden color.
Aroma:
Aromas of white and floral fruit.
Plato Grade:
14,8
Fermentation:
Unfiltered, unpasteurized, refermented in the bottle.
Likes:
Delicate and balanced, with the sweet notes of malt and spelled adequately balanced by the non-invasive bitterness of the hops. Medium body. Fine carbonation.
Features:
100% Italian product, craftsmanship, vegan
Production:
Tuscany
Ideal for:
Appetizers or delicate first courses, white meats, fresh cheeses, or as an aperitif
📦 Discount card from -10% to -20% 12 months.
Join the AmoreTerra family to take advantage of a discount on your carts from -10% to -20%.
valid card on the whole catalog and for all purchases that you will perform in 12 months.
CARD FOR YOU

FAMILY CARD

Shopping cart discount:

10%

Discount on offers: NO


Duration (months): 12
Max orders: UNLIMITED

Coupon cost: 10€ only once
Go to the product for purchase

Shopping cart discount:

10%

Discount on offers: AND
Duration (months): 12


Max orders:

UNLIMITED
Coupon cost: 20€ only once
Go to the product for purchase