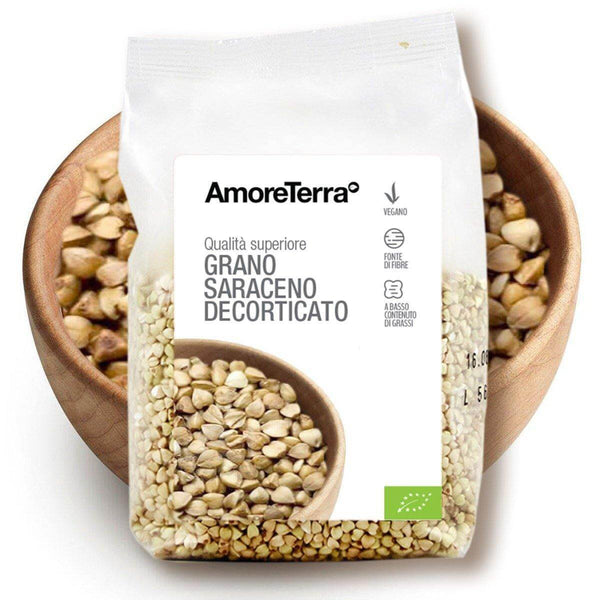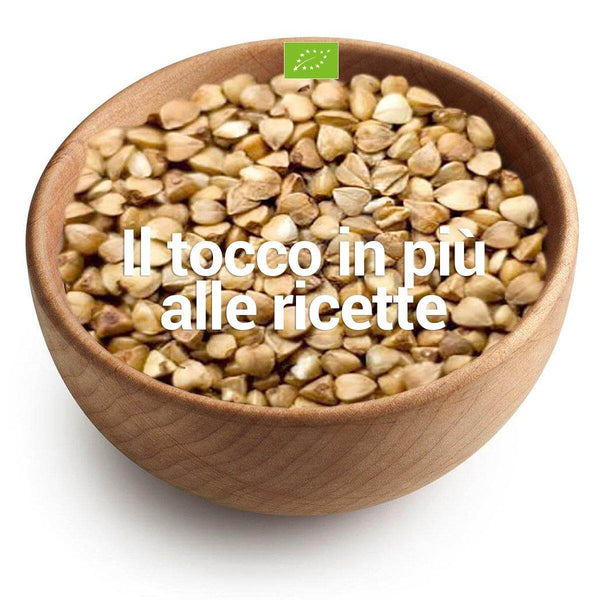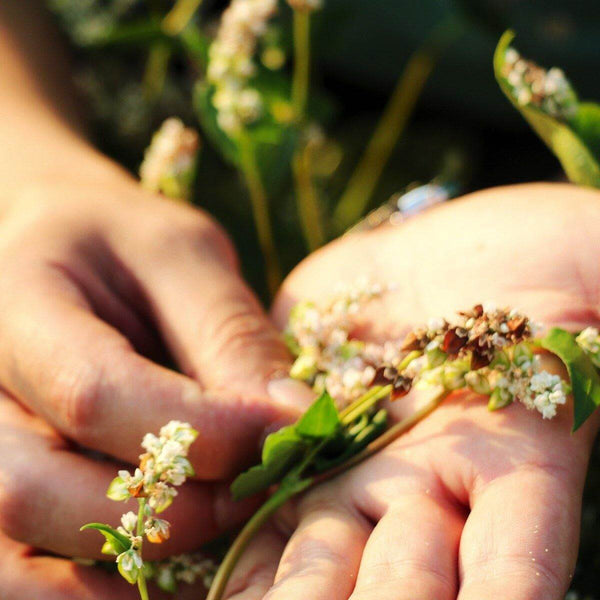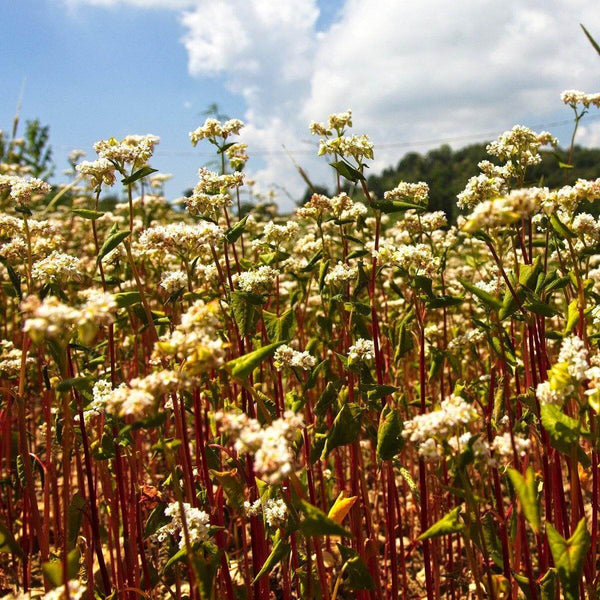 Hulled buckwheat

Net weight: 350g.
Hulled buckwheat is a high quality food, grown with organic farming methods. Although it does not belong to grasses, it has nutritional characteristics very similar to more traditional cereals such as wheat and spelled. It is ideal for soups, broths and salads.

Ingrediants: Buckwheat*. * From organic farming. 
Allergens:  It may contain CEREALS containing GLUTEN, NUTS and seeds of SESAME
The packaging is in a protective atmosphere
Scheda tecnica prodotto
Peso: 350 g
Certificazione: biologico
Produzione: Origine Grano Saraceno NON UE

Valori nutrizionali medi per 100 gr. di prodotto:
Energia: 1476 kJ/ 349 kcal
Grassi: 3,4 g
di cui acidi grassi saturi: 0,7 g
Carboidrati: 62 g
di cui zuccheri: <0,1 g
Fibre: 13 g
Proteine: 12,4 g
Sale: <0,01 g
Metodo conservazione: Conservare in luogo fresco e asciutto e buio.
Smaltimento prodotto:
OTHER 07 Film + etichetta Raccolta differenziata plastica.

Caratteristiche
Chi non ha mai visto una pianta di grano saraceno, resta di solito stupito nel vederla. Non assomiglia affatto al frumento, non ha spighe ma piccoli fiorellini bianchi ed è un pianta erbacea. Appartiene famiglia delle Poligonacee, di cui fa parte anche il rabarbaro e l'acetosa, conosciuta soprattutto come erba brusca. Tuttavia il grano saraceno ha una caratteristica che nessun altra specie della sua famiglia possiede: i suoi acheni (piccoli frutti triangolari con un solo seme, di colore bruno nella foto sotto, scattata sull'Appennino Modenese nei campi della Filiera AmoreTerra) si possono macinare per ottenere una farina con caratteristiche nutrizionali simili a quelle del grano.
Ideale per:
Ideale per zuppe e insalate dal sapore rustico e dalla consistenza croccante.
Preparazione:
Prima di cucinarlo lavare bene i chicchi sotto acqua corrente finché l'acqua non è limpida, per eliminare polvere e granelli di terra. Poi si mettono in una pentola con acqua e sale (la proporzione è una parte di grano saraceno e due di acqua) e si fanno bollire per circa 20-30 minuti, finché l'acqua non si è assorbita. A questo punto potete usare il grano saraceno in zuppe e minestre per ottimi primi piatti invernali, oppure in insalata (magari insieme al farro o all'orzo) per un piatto unico estivo molto gustoso. In entrambi i casi, visto che il grano saraceno ha un sapore molto intenso è meglio abbinarlo con condimenti dal gusto non troppo delicato, perché rischierebbe di coprirlo.
Circa 30 minuti di cottura.
📦 Discount card from -10% to -20% 12 months.
Join the AmoreTerra family to take advantage of a discount on your carts from -10% to -20%.
valid card on the whole catalog and for all purchases that you will perform in 12 months.
CARD FOR YOU

FAMILY CARD

Shopping cart discount:

10%

Discount on offers: NO


Duration (months): 12
Max orders: UNLIMITED

Coupon cost: 10€ only once
Go to the product for purchase

Shopping cart discount:

10%

Discount on offers: AND
Duration (months): 12


Max orders:

UNLIMITED
Coupon cost: 20€ only once
Go to the product for purchase