Trucioli di Luce, chickpeas, turmeric and black pepper - artisanal, BIO, ancient grains 250g.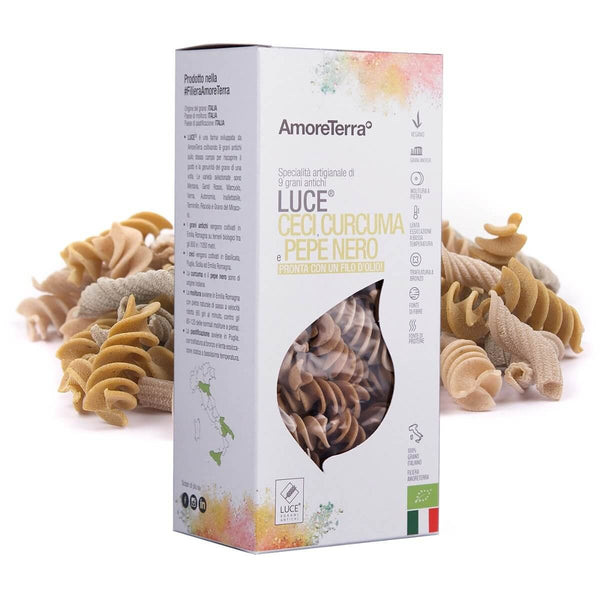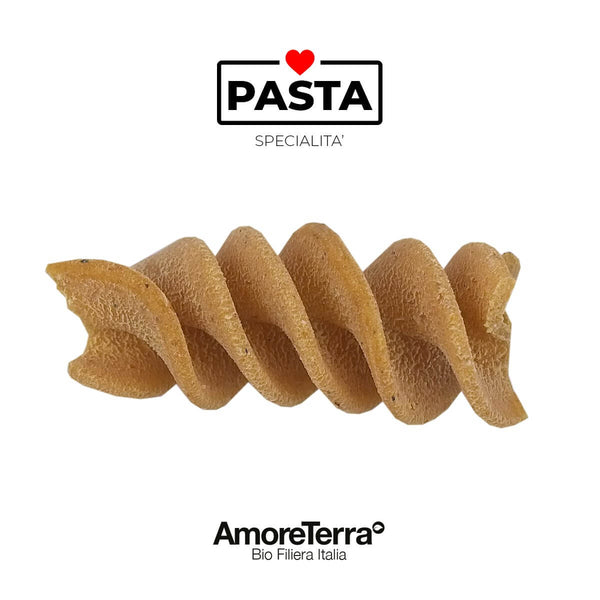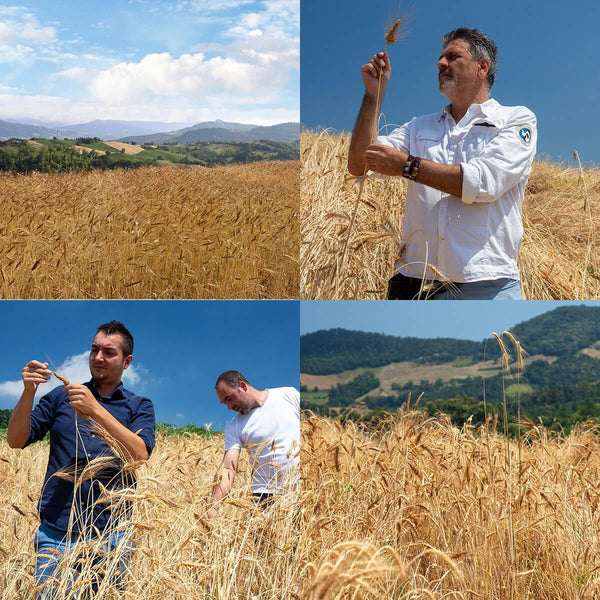 Light shavings, chickpeas, turmeric and black pepper
Net weight: 250g.
Are you looking for a truly unique pasta? These shavings are made with the 9 ancient grains of our Farina Luce, made by cultivating wheat as it once was: many varieties on the same field and stone-ground. It is mixed with stone ground chickpea flour to obtain a complete protein profile of all essential amino acids. Finally, turmeric and black pepper give it a delicious taste and extraordinary beneficial properties (black pepper, in fact, makes the anticarcinogenic, anti-inflammatory and antioxidant effect of turmeric up to 20 times more effective).
These artisanal shavings are made with Farina Luce (Gentil Rosso, Mentana, Verna, Marzuolo, Autonomia, Inallettabile, Terminillo, Risciola and wheat of the miracle), flour developed by cultivating 9 ancient grains on the same field.
Ingrediants: LUCE® type 2 flour *, wholemeal chickpea flour *, turmeric *, black pepper *. * 
Allergens: containing cereals GLUTEN, it may contain traces from SOF COURSE And MUSTARD.
Origin of the grain: Italy
country of milling: Italy
Scheda tecnica prodotto
Peso: 250 g
Certificazione: biologico
Produzione:
Filiera AmoreTerra
Coltivazioni: 
Il grano da cui ricaviamo la Farina Luce® è coltivato in Emilia Romagna su terreni incontaminati.
Pastificazione: 
Si svolge in Puglia in pastificio storico ed artigianale, trafilatura al bronzo e essiccazione a bassa temperatura così da ottenere il meglio da ogni formato.

Valori nutrizionali medi per 100 gr. di prodotto:
Energia: 1514 kJ / 358 kcal
Grassi: 2,5 g
di cui acidi grassi saturi: 0,5 g
Carboidrati: 66 g
di cui zuccheri: 3,5 g
Fibre: 5,9 g
Proteine: 14 g
Sale: <0,01 g
Metodo conservazione: Conservare in luogo fresco e asciutto.
Smaltimento prodotto:
Carta / Plastica
Verifica le disposizioni del tuo comune.
📦 Discount card from -10% to -20% 12 months.
Join the AmoreTerra family to take advantage of a discount on your carts from -10% to -20%.
valid card on the whole catalog and for all purchases that you will perform in 12 months.
CARD FOR YOU

FAMILY CARD

Shopping cart discount:

10%

Discount on offers: NO


Duration (months): 12
Max orders: UNLIMITED

Coupon cost: 10€ only once
Go to the product for purchase

Shopping cart discount:

10%

Discount on offers: AND
Duration (months): 12


Max orders:

UNLIMITED
Coupon cost: 20€ only once
Go to the product for purchase