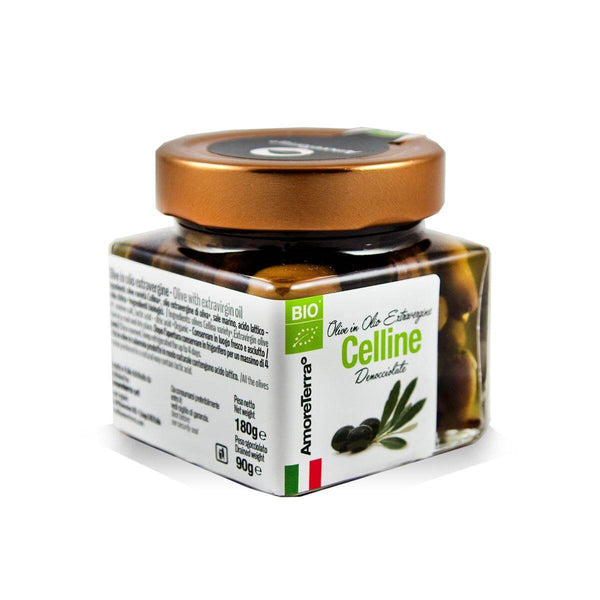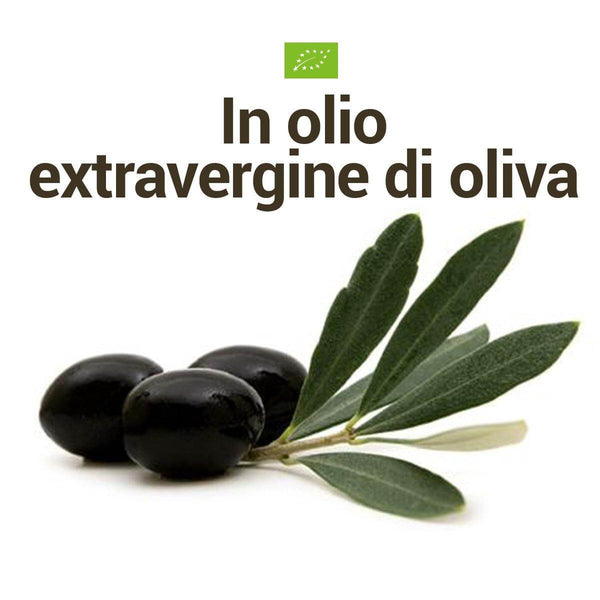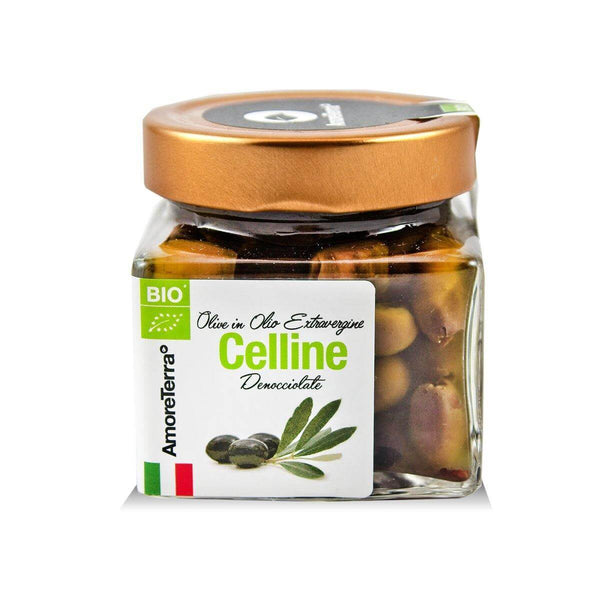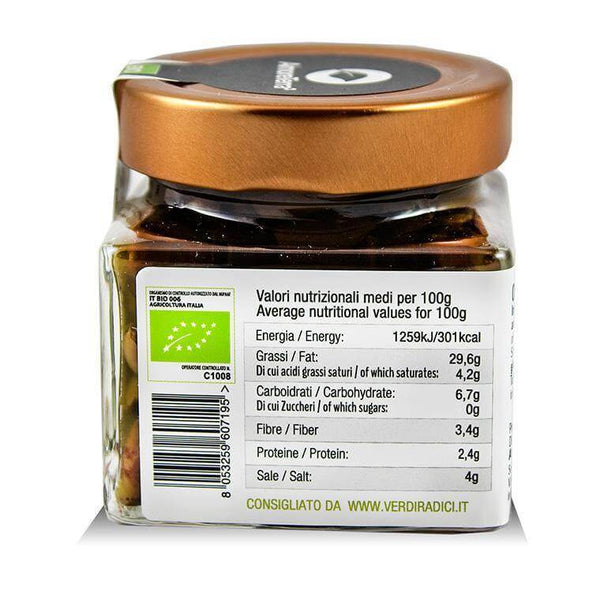 Cellina olive pitted in oil
Net weight: 180g.
The pitted Celline black olives preserved in excellent organic extra virgin olive oil are a variety from Salento. The "Celline di Nardò" have an excellent supply of monounsaturated fatty acids, tocopherols and beta-carotenes, important for their anti-cholesterol, antioxidant and prevention of cardiovascular diseases.
Ingrediants:
Cellina variety olives *, extra virgin olive oil *, sea salt, lactic acid - citric acid * Organic ingredients.
Information:
Cellina di Nardò is a rustic and very resistant cultivar. The fruit is small and black-blue in color, the leaves are oval and minute. The taste recalls ripe blackberries.
the black color like ink cannot be found in other olives.
Cellina di Nardò is rich in polyphenols, formidable antioxidants that neutralize free radicals, preventing cellular aging and the development of tumors and diseases such as arteriosclerosis and cardiovascular diseases.
Ideal for:
Aperitif
Scheda tecnica prodotto
Peso: 280 g
Certificazione: biologico
Produzione: Italia
Filiera AmoreTerra

Valori nutrizionali medi per 100 gr. di prodotto:
Energia: 1259 kJ/301kcal
Grassi: 29,6 g
di cui acidi grassi saturi: 4,2 g
Carboidrati: 6,7 g
di cui zuccheri: 0 g
Fibre: 3,4 g
Proteine: 2,4 g
Sale: 4 g
Metodo conservazione: store in the refrigerator for a maximum of 4 days
Smaltimento prodotto:
Vasetto: GL 70 Vetro
Capsula: C/FE 91 Metallo
Verifica le disposizioni del tuo comune.
📦 Discount card from -10% to -20% 12 months.
Join the AmoreTerra family to take advantage of a discount on your carts from -10% to -20%.
valid card on the whole catalog and for all purchases that you will perform in 12 months.
CARD FOR YOU

FAMILY CARD

Shopping cart discount:

10%

Discount on offers: NO


Duration (months): 12
Max orders: UNLIMITED

Coupon cost: 10€ only once
Go to the product for purchase

Shopping cart discount:

10%

Discount on offers: AND
Duration (months): 12


Max orders:

UNLIMITED
Coupon cost: 20€ only once
Go to the product for purchase