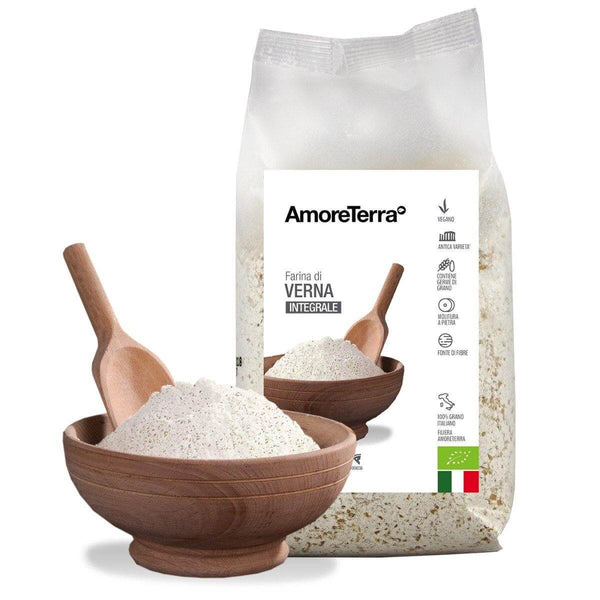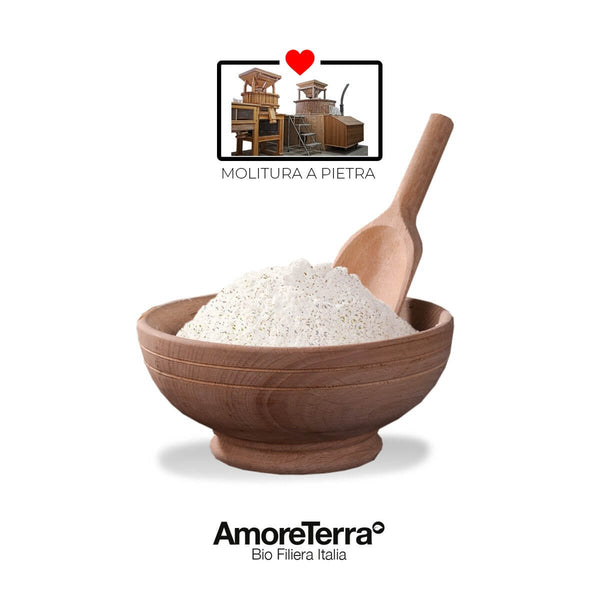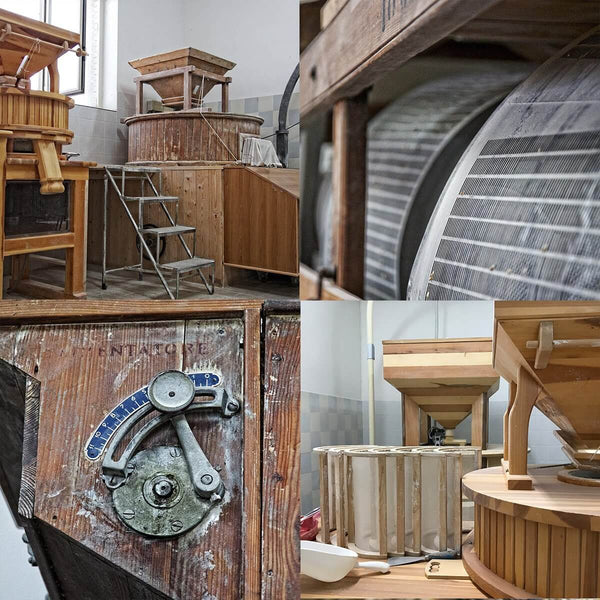 Verna
Net weight: 500g.
Nutritious and healthy, the ancient variety of soft wheat Verna is considered one of the best in terms of nutrition. Scientific research has highlighted its great anti-inflammatory and antioxidant qualities and an excellent protein, lipid and mineral content. It is grown and ground slowly with natural stone on the Modenese Apennines, without eliminating the precious wheat germ, and is packaged within three days of milling.
Ingrediants: 100% organic soft WHEAT Verna variety.
Contains wheat germ
Allergens: May contain SOYA.
Origin of Verna: Italy
Country of milling: Italy
a old stone mill that turns and turns and turns always slowly, this is how our flours are born.
Watch the video of the mill
Information:
It is advisable to combine it with mother yeast or natural yeast and subject it to longer leavening times than normal times. It maintains excellent performance even if it is mixed with other flours or semolina, as long as they are of ancient varieties.
Ideal for:
It gives rise to an organic soft wheat flour, ideal for bread, pizzas, focaccia, desserts and biscuits.
Scheda tecnica prodotto
Peso: 500 g
Certificazione: biologico
Produzione: Italia
Filiera AmoreTerra
Coltivazioni: Emilia Romagna, Puglia e Basilicata
Molitura: Emilia Romagna
Confezionata in atmosfera protettiva

Valori nutrizionali medi per 100 gr. di prodotto:
Energia: 1392 kJ / 329 kcal
Grassi: 1,8 g
di cui acidi grassi saturi: 0,4 g
Carboidrati: 59 g
di cui zuccheri: 1,2 g
Fibre: 12 g
Proteine: 12 g
Sale: <0,01 g
Metodo conservazione: Conservare in luogo fresco e asciutto e buio.
Smaltimento prodotto:
OTHER 07 Film + etichetta Raccolta differenziata plastica.
Verifica le disposizioni del tuo comune.
📦 Discount card from -10% to -20% 12 months.
Join the AmoreTerra family to take advantage of a discount on your carts from -10% to -20%.
valid card on the whole catalog and for all purchases that you will perform in 12 months.
CARD FOR YOU

FAMILY CARD

Shopping cart discount:

10%

Discount on offers: NO


Duration (months): 12
Max orders: UNLIMITED

Coupon cost: 10€ only once
Go to the product for purchase

Shopping cart discount:

10%

Discount on offers: AND
Duration (months): 12


Max orders:

UNLIMITED
Coupon cost: 20€ only once
Go to the product for purchase