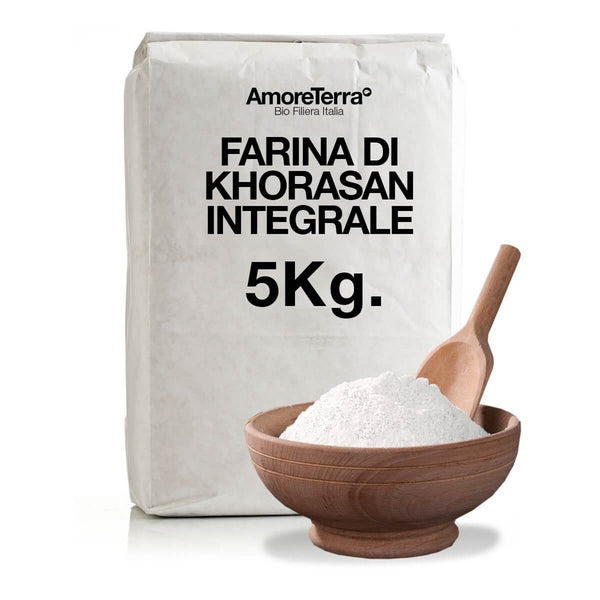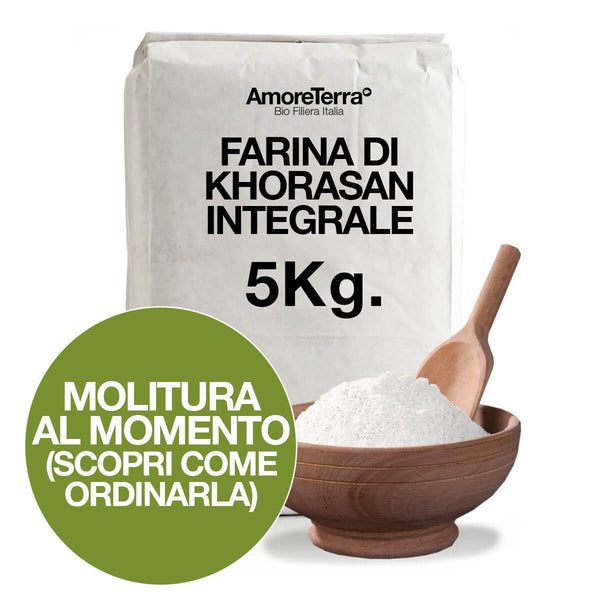 Khorasan

Net weight: 5 Kg.
AmoreTerra has recovered some ancient seeds and cultivated them in the mountains, between 850 and 1050 meters above sea level, on fields that have remained uncultivated for more than fifty years and therefore particularly rich in mineral salts.

Khorasan flour (Triticum Turanicum) organic wholemeal is a food from a complete nutritional point of view and with a high selenium content, mineral that helps protect the body from damage caused by free radicals.
Stone ground flour is the result of grinding a cereal with the most ancient method, that is by crushing the grains between two large stones.

Organic product
100% AmoreTerra supply chain (ancient grains)
Allergens: Cereals containing GLUTEN, May contain traces of SOYBEAN And MUSTARD.
Origin of the grain: Italy
Country of milling: Italy

a old stone mill that turns and turns and turns always slowly, this is how our flours are born.
Watch the video of the mill
(if it is out of stock, it can be pre-ordered by writing to ordini@amoreterra.com, you will be notified on the day of the milling)

Ingrediants:
100% Khorasan bio
Contains wheat germ
Origin of the grain: Italy
Country of milling: Italy

Features
Information:
Khorasan is a very ancient variety of wheat, man began to cultivate it about 8 thousand years ago in Persia. In the mid-twentieth century it was imported to North America where the Kamut International company was born (registered trademarks).
Khorasan has been cultivated in Italy for at least 1600 years.
Khorasan wheat stands out for its very high and full ear and for the elongated grains that protrude from the glumella, or the "peel" that covers them: even for the layman it is impossible to confuse it with durum wheat.
Ideal for:
Khorasan is suitable for baking and baked goods, from bread to pizza to homemade breadsticks. For those with a sweet tooth, it is also suitable for preparing fragrant biscuits and other types of sweets.


📦 Discount card from -10% to -20% 12 months.
Join the AmoreTerra family to take advantage of a discount on your carts from -10% to -20%.
valid card on the whole catalog and for all purchases that you will perform in 12 months.
CARD FOR YOU

FAMILY CARD

Shopping cart discount:

10%

Discount on offers: NO


Duration (months): 12
Max orders: UNLIMITED

Coupon cost: 10€ only once
Go to the product for purchase

Shopping cart discount:

10%

Discount on offers: AND
Duration (months): 12


Max orders:

UNLIMITED
Coupon cost: 20€ only once
Go to the product for purchase