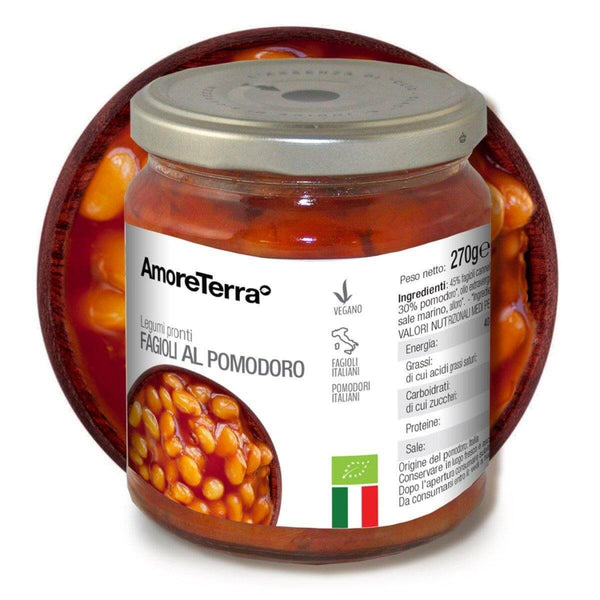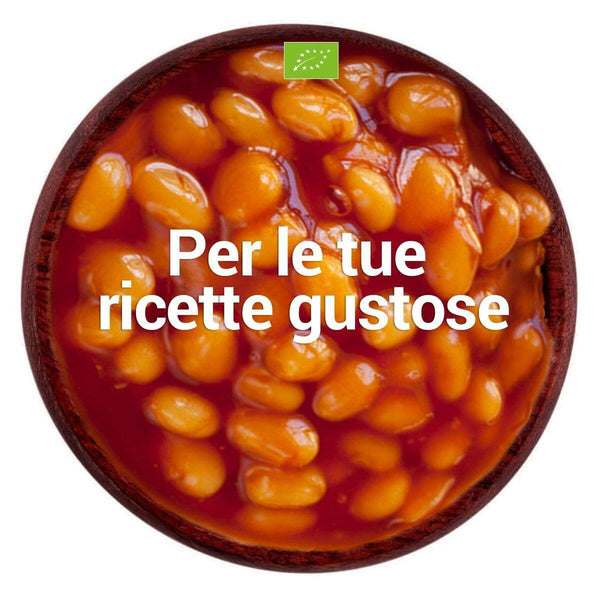 Cannellini beans with tomato
Net weight: 270g.
Cannellini beans with tomato sauce are a healthy and quick to prepare product.
The high quality of the raw material grown organically in Italy is guaranteed by our supply chain.
These beans are grown in Umbria and prepared with Italian tomatoes and extra virgin olive oil.
Ingrediants: Cannellini beans 45%, onions, tomatoes 30%, extra virgin olive oil, sea salt, bay leaf. - Organic ingredients.
Origin of the beans: Italy
Scheda tecnica prodotto
Peso: 270 g
Certificazione: biologico
Produzione: Italia
Trasformazione:
Nel torinese, In laboratorio situato ai piedi dell'arco alpino.

Valori nutrizionali medi per 100 gr. di prodotto:
Energia: 407 kJ / 97kcal
Grassi: 3,6 g
di cui acidi grassi saturi: 0,6 g
Carboidrati: 10,3 g
di cui zuccheri: 2 g
Fibre: 4,5 g
Proteine: 3,7 g
Sale: 1,3 g
Metodo conservazione: Conservare in luogo fresco e asciutto. Dopo l'apertura consumare subito il prodotto.
Smaltimento prodotto:
Vasetto: GL 70 Vetro
Capsula: C/FE 91 Acciaio
Verifica le disposizioni del tuo comune
Caratteristiche
I fagioli cannellini sono legumi particolarmente ricchi di glucodrine, sostanze in grado di ridurre la glicemia e quindi sono particolarmente indicati per le persone che soffrono di diabete, soprattutto per quelle che faticano a mangiare con regolarità le verdure. Contengono anche lecitina, che consente di emulsionare i grassi non solo limitandone l'assorbimento nel sangue ma addirittura la loro persistenza e ciò li rende un alimento estremamente indicato per chi soffre di colesterolo alto o ha una dieta ricca di grassi.
I legumi della filiera di AmoreTerra vengono coltivati secondo i metodi dell'agricoltura biologica sugli stessi terreni sui quali coltiviamo i nostri grani pregiati, secondo il metodo della rotazione delle colture che preserva la naturale presenza di sostanze organiche nel terreno.
Tutti i legumi sono infatti un'importante fonte di vitamine e di proteine di qualità, forniscono minerali essenziali come Ferro, Calcio, Zinco, Potassio, Fosforo e Magnesio e alcune vitamine del complesso B ed E.
Ideale per:
Il prodotto è pronto per essere gustato o miscelato in ricette personalizzate.
📦 Discount card from -10% to -20% 12 months.
Join the AmoreTerra family to take advantage of a discount on your carts from -10% to -20%.
valid card on the whole catalog and for all purchases that you will perform in 12 months.
CARD FOR YOU

FAMILY CARD

Shopping cart discount:

10%

Discount on offers: NO


Duration (months): 12
Max orders: UNLIMITED

Coupon cost: 10€ only once
Go to the product for purchase

Shopping cart discount:

10%

Discount on offers: AND
Duration (months): 12


Max orders:

UNLIMITED
Coupon cost: 20€ only once
Go to the product for purchase