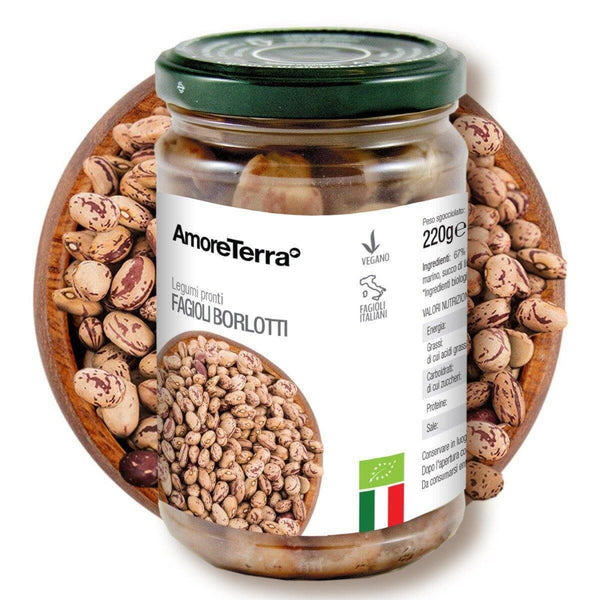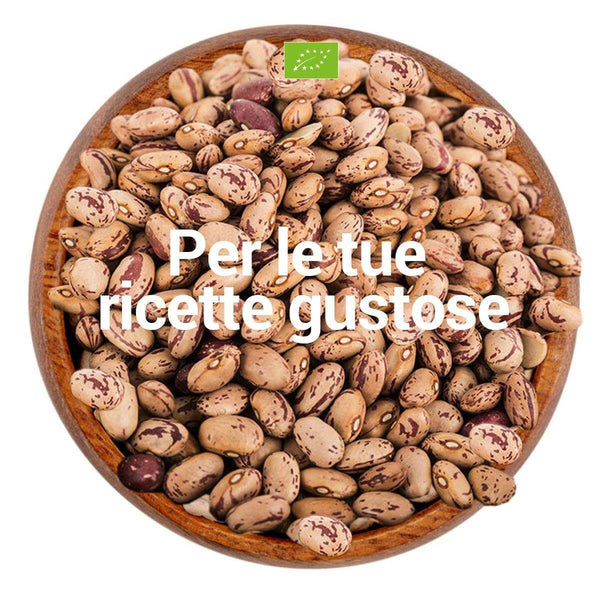 Boiled Borlotti beans
Net weight: 300g.
AmoreTerra borlotti beans are a high quality food, grown in Italy with organic farming methods.
Borlotti beans are rich in calcium, magnesium and potassium, and are an excellent source of protein for vegetarians.
They also contain fiber. Which makes them perfect for constipation.
Ingrediants: 67% Beans *, Water, sea salt, lemon juice * - * Organic ingredients
Origin of the beans: Italy
Scheda tecnica prodotto
Peso: 300 g
Certificazione: biologico
Produzione: Italia
Trasformazione:
Nel torinese, In laboratorio situato ai piedi dell'arco alpino.

Valori nutrizionali medi per 100 gr. di prodotto:
Energia: 353 kJ/ 84 kcal
Grassi: 0,5 g
di cui acidi grassi saturi: 0,0 g
Carboidrati: 14 g
di cui zuccheri: 0,5 g
Fibre: -
Proteine: 3,6 g
Sale: 1,14 g
Metodo conservazione: Conservare in luogo fresco e asciutto. Dopo l'apertura consumare subito il prodotto.
Smaltimento prodotto:
Vasetto: GL 70 Vetro
Capsula: C/FE 91 Acciaio
Verifica le disposizioni del tuo comune
Caratteristiche
Per evitare gonfiore addominale e flatulenza, potete cuocerli insieme a alghe o zenzero.
In quantità minori, questo legume contiene anche vitamine del gruppo B, e zinco.
Sono una valida alternativa alla carne, perché in grado di bilanciare l'apporto di carboidrati e lipidi nel sangue.
I prodotti biologici AmoreTerra sono coltivati in Italia da piccole aziende agricole selezionate per la qualità dei loro terreni e per i processi tradizionali e poco invasivi.
Ideale per:
Provala anche accompagnata con farro, orzo o altri cereali.
Come abbinare i fagioli?
Grazie alla loro versatilità in cucina, i legumi possono essere abbinati a tantissimi altri ingredienti: cereali, pasta, riso e verdure sono gli abbinamenti più indicati.
📦 Discount card from -10% to -20% 12 months.
Join the AmoreTerra family to take advantage of a discount on your carts from -10% to -20%.
valid card on the whole catalog and for all purchases that you will perform in 12 months.
CARD FOR YOU

FAMILY CARD

Shopping cart discount:

10%

Discount on offers: NO


Duration (months): 12
Max orders: UNLIMITED

Coupon cost: 10€ only once
Go to the product for purchase

Shopping cart discount:

10%

Discount on offers: AND
Duration (months): 12


Max orders:

UNLIMITED
Coupon cost: 20€ only once
Go to the product for purchase