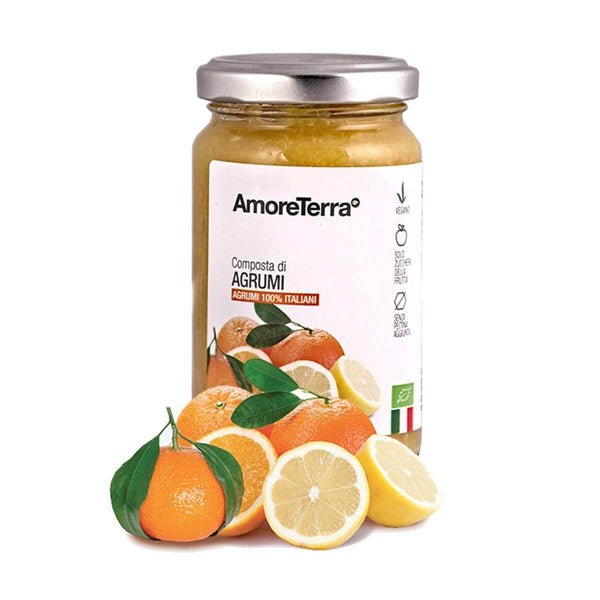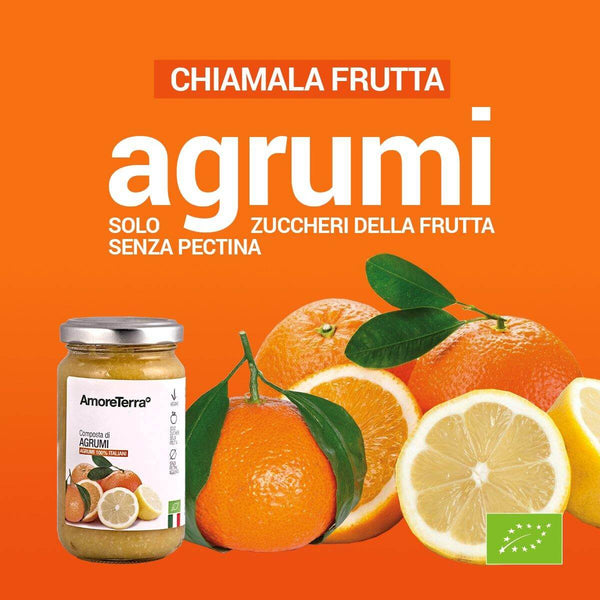 Compote of citrus fruits
Net weight: 220g.
Our compote is pectin-free and with only added fruit sugars.
It is made only with fruit: oranges, lemons and clementines, apple puree and grape sugar. Because nature does not need refined sugars or pectin.
Fruit compotes (not to be confused with jams or marmalades) contain more fruit than extra jams and can often exceed 100% fruit.

As soon as you open a jar you will be enveloped by an enveloping scent of ripe fruit. The taste is the authentic one of the raw materials used, collected in an advanced stage of ripeness and cooked slowly at a low temperature. In this way the compote is naturally sweet and tasty.
Ingrediants: Citrus fruits with chopped peel in variable proportions * (oranges, lemons, clementines) 60%, grape sugar *, concentrated apple puree *. - * From organic farming
Citrus origin: Italy
Scheda tecnica prodotto
Peso: 220 g
Certificazione: biologico
Produzione: Italia
Lavorazione:
Cotte lentamente a bassa temperatura.

Valori nutrizionali medi per 100 gr. di prodotto:
Energia: 627 kJ/ 148 kcal
Grassi: <0,5 g
di cui acidi grassi saturi: <0,1 g
Carboidrati: 34 g
di cui zuccheri: 29 g
Fibre: -
Proteine: 0,8 g
Sale: 0,02 g
Metodo conservazione: Conservare in luogo fresco (20-25°C) e asciutto al riparo da fonti di luce e calore.
Smaltimento prodotto:
Vasetto: GL 70 Vetro
Capsula: C/FE 91 Metallo
Etichetta: PP/05 Plastica
Verifica le disposizioni del tuo comune.
📦 Discount card from -10% to -20% 12 months.
Join the AmoreTerra family to take advantage of a discount on your carts from -10% to -20%.
valid card on the whole catalog and for all purchases that you will perform in 12 months.
CARD FOR YOU

FAMILY CARD

Shopping cart discount:

10%

Discount on offers: NO


Duration (months): 12
Max orders: UNLIMITED

Coupon cost: 10€ only once
Go to the product for purchase

Shopping cart discount:

10%

Discount on offers: AND
Duration (months): 12


Max orders:

UNLIMITED
Coupon cost: 20€ only once
Go to the product for purchase
Caratteristiche delle composte
Le composte di frutta contengono più frutta rispetto alle confetture extra e molte volte possono superare il 100% di frutta. Come è possibile? Perché durante la cottura avviene una perdita di peso: per realizzare molte delle composte bio sono stati utilizzati fino a 130 grammi di frutta ogni 100 grammi di prodotto finito. Contengono solamente frutta e zucchero d'uva, per una percentuale di zuccheri semplici nel prodotto finito più bassa che nelle altre confetture e marmellate. Sono senza zucchero raffinato e senza pectina.
Si chiamano "composte" invece di semplici confetture bio (che hanno meno del 65% di frutta) o marmellate bio (che hanno sempre meno del 65% di frutta e per legge si riferiscono solo agli agrumi) puoi scoprire di più sulla differenza tra composta, confettura e marmellata sul nostro Magazine.
ideale per:
Ideale da spalmare sulle fette biscottate con "Farina Luce®" o per la preparazione di torte, dolci e crostate. Consumare 30 g di composta a colazione ci permetteranno di introdurre carboidrati semplici, fonte importante di energia.