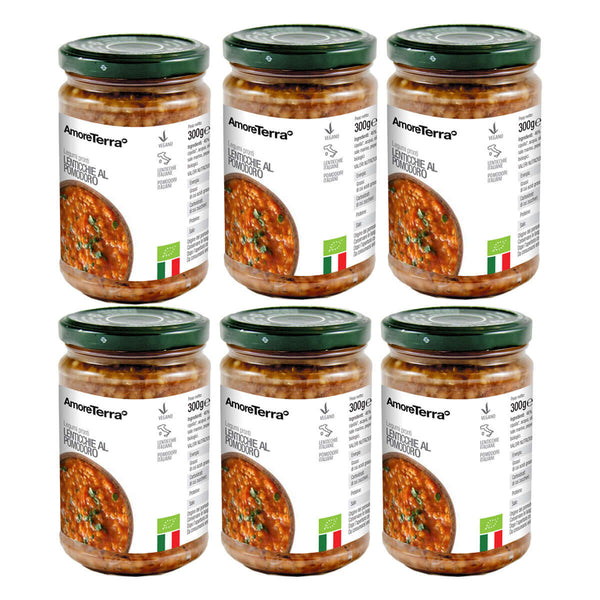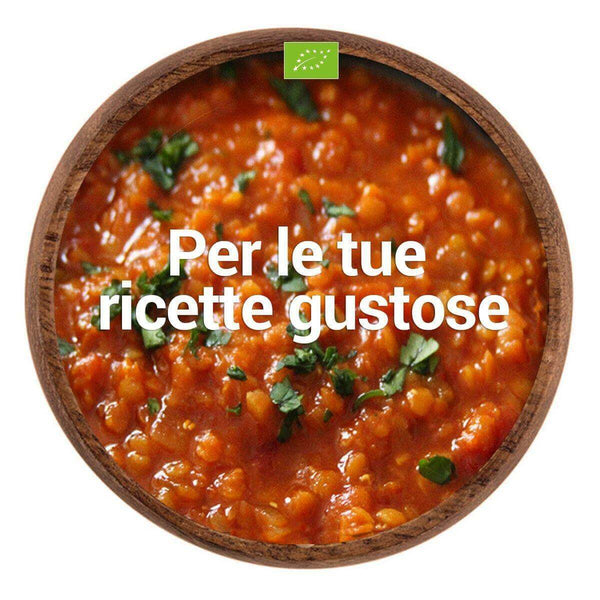 Lentils with tomato
Total net weight: 1.8 Kg.
For your pantry, a tasty ready dish, selected and processed fresh with water and sea salt, with us only the best Italian BIO legumes.
The easiest to use in the kitchen, despite being pre-cooked, do not lose their qualities.
A quick dish, just heat them up and savor the tasty one!
Ingrediants: 46% Lentils *, 30% Tomato *, Onion *, Water, extra virgin olive oil *, sea salt, pepper *, bay leaf * - * Organic Ingredients
Origin of lentils: Italy
Scheda tecnica prodotto
Certificazione:
biologico
Filiera AmoreTerra
Coltivazione:
Le lenticchie sono coltivate in Basilicata su terreni biologici circondati da aree incontaminate e lontani dalle arterie di traffico.
Trasformazione:
Nel torinese, In laboratorio situato ai piedi dell'arco alpino.

Valori nutrizionali medi per 100 gr. di prodotto:
Energia: 285 kJ/68 kcal
Grassi: 1,5 g
di cui acidi grassi saturi: 0,4 g
Carboidrati: 7,2 g
di cui zuccheri: 1,3 g
Fibre: -
Proteine: 4,3 g
Sale: 1,1 g
Metodo conservazione: Conservare in luogo fresco e asciutto. Dopo l'apertura consumare subito il prodotto.
Smaltimento prodotto:
Vasetto: GL 70 Vetro
Capsula: C/FE 91 Acciaio
Verifica le disposizioni del tuo comune
Caratteristiche
Le lenticchie sono dei legumi molto nutrienti e ricchi di proprietà benefiche, fonte di proteine, carboidrati e fibre, ma contengono pochissimi grassi. Sono inoltre ricche di vitamine del gruppo B e sali minerali, tra cui ferro e fosforo. Grazie a queste caratteristiche, sono ottime per prevenire e combattere l'anemia.
I nostri legumi biologici vengono coltivati secondo i metodi dell'agricoltura biologica sugli stessi terreni sui quali coltiviamo i nostri grani pregiati, secondo il metodo della rotazione delle colture che preserva la naturale presenza di sostanze organiche nel terreno.
Ideale per:
Provali anche accompagnati con farro, orzo o altri cereali.
Cosa abbinare alle lenticchie?
L'abbinamento migliore per i legumi sono i cereali, la pasta e il riso, in pratica i famosi "piatti unici" cioè pasta e fagioli o pasta elenticchie, pasta e piselli, pasta e ceci, risotto e piselli.
📦 Discount card from -10% to -20% 12 months.
Join the AmoreTerra family to take advantage of a discount on your carts from -10% to -20%.
valid card on the whole catalog and for all purchases that you will perform in 12 months.
CARD FOR YOU

FAMILY CARD

Shopping cart discount:

10%

Discount on offers: NO


Duration (months): 12
Max orders: UNLIMITED

Coupon cost: 10€ only once
Go to the product for purchase

Shopping cart discount:

10%

Discount on offers: AND
Duration (months): 12


Max orders:

UNLIMITED
Coupon cost: 20€ only once
Go to the product for purchase