ARTISAN BIO PASTA
Our pasta of ancient grains highly digestible with little gluten and processed at low temperature. S.Cappelli, Khorasan, Legumes and Traditional.
Discover them all
ALWAYS ORGANIC, WE GROW AND CREATE GOODNESS
YOU KNOW WHAT YOU EAT
To encourage an informed purchase, we report on the label the places of our supply chain where we cultivate And we create our goodness.
Thanks to our supply chain we create healthy and tasteful products, cultivating And realizing i handcrafted according to regional traditions.
KNOW OUR CROPS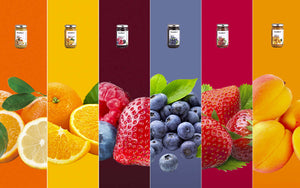 COMPOUNDS without pectin
They are called "Compote"and not organic jams or marmalades, up to130g of fruit per 100g of product, with no refined sugar and no added pectin, only fruit and grape sugar.
You can also find them in "pantry offer"
Scoprile
First know our quality, then choose 12 months of savings in the cart.
12 MONTHS DISCOUNT
Discount card from -10% to -20% on all your carts
🌳 Purchase the card, plant a tree in your name 🌳
Certifications and safety