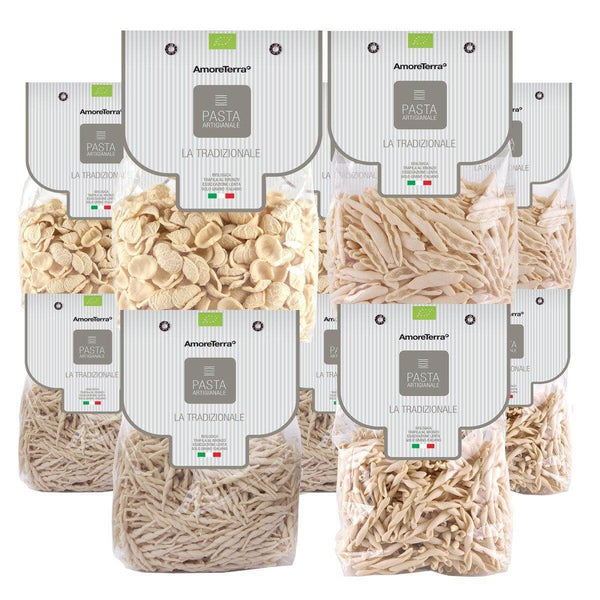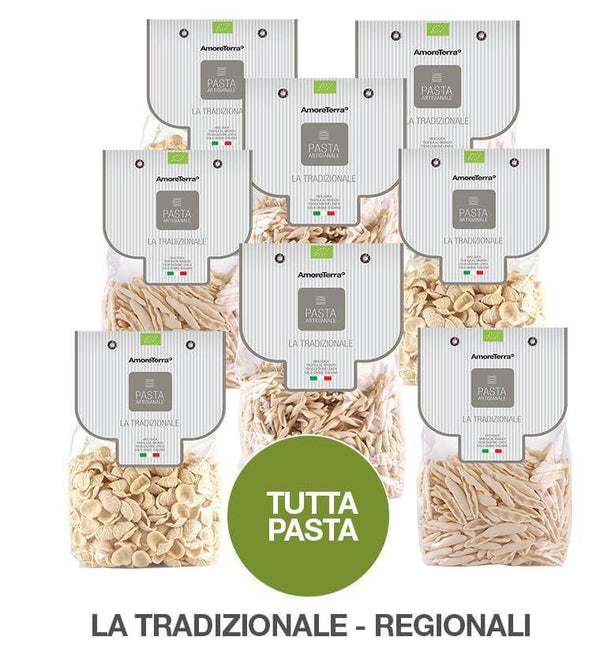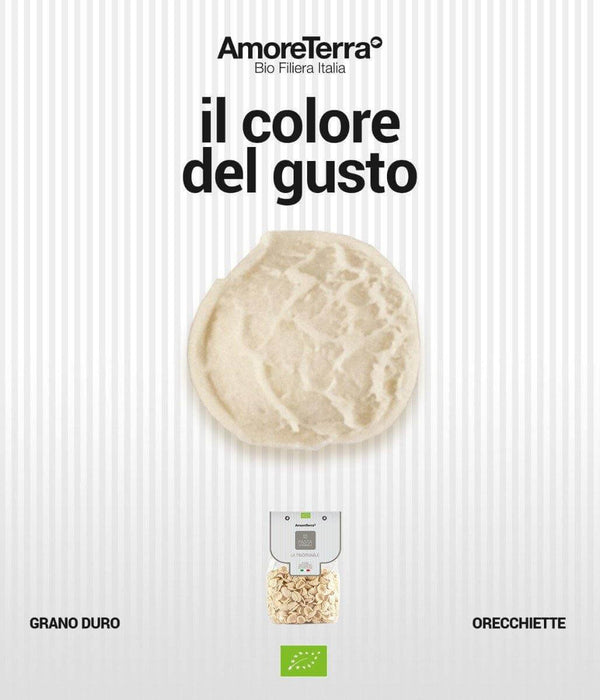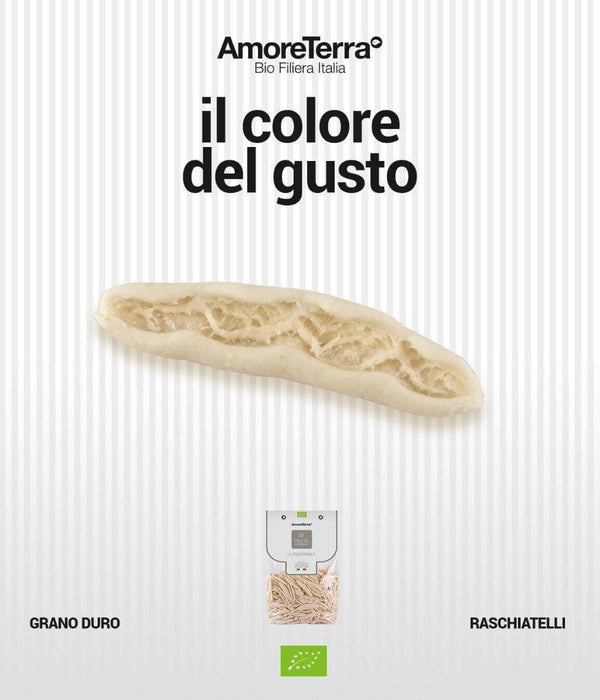 Various formats
Net weight: 6 Kg.
12 Pcs. Of artisanal pasta, regional shapes as per tradition, 100% Italian wheat.
Do not miss this mix of organic pasta able to give you a sweet and tasty aftertaste.
Try a product from high catering able to make your tasting unique able to involve even the most demanding palates.
Discover all the features by clicking on "Data sheet".
Trofie
Orecchiette
Raschiatelli
Strozzapreti
Attention: Check in PASTA THE TRADITIONAL, if one of the formats is not available at the time of purchase, we will replace it with one available of the same price.
Ingrediants: Semolina of GRAIN hard, water. * From organic farming.
Allergens: containing cereals GLUTEN, May contain traces of SOYBEAN And MUSTARD.
Origin of the grain: Italy
Country of milling: Italy

FOR TECHNICAL SHEETS, NUTRITIONAL VALUES, ALLERGENS AND OTHER INFORMATION SEE THE SHEETS OF THE INDIVIDUAL PRODUCTS. 
Scheda tecnica prodotto
Peso: 6 Kg
Certificazione: biologico
Produzione: Italia
Filiera AmoreTerra
Coltivazioni: 
Puglia, Basilicata su terreni incontaminati.
Pastificazione: 
Si svolge in Basilicata, trafilatura al bronzo e essiccazione a bassa temperatura per ottenere il meglio da ogni formato.

Valori nutrizionali medi per 100 gr. di prodotto:
Energia: 1478 kJ/349 kcal
Grassi: 1,4 g
di cui acidi grassi saturi: 0,5 g
Carboidrati: 70 g
di cui zuccheri: 3 g
Fibre: 3 g
Proteine: 13 g
Sale: <0,01
Metodo conservazione: Conservare in luogo fresco e asciutto
Smaltimento prodotto:
Indifferenziata
Verifica le disposizioni del tuo comune.
📦 Discount card from -10% to -20% 12 months.
Join the AmoreTerra family to take advantage of a discount on your carts from -10% to -20%.
valid card on the whole catalog and for all purchases that you will perform in 12 months.
CARD FOR YOU

FAMILY CARD

Shopping cart discount:

10%

Discount on offers: NO


Duration (months): 12
Max orders: UNLIMITED

Coupon cost: 10€ only once
Go to the product for purchase

Shopping cart discount:

10%

Discount on offers: AND
Duration (months): 12


Max orders:

UNLIMITED
Coupon cost: 20€ only once
Go to the product for purchase