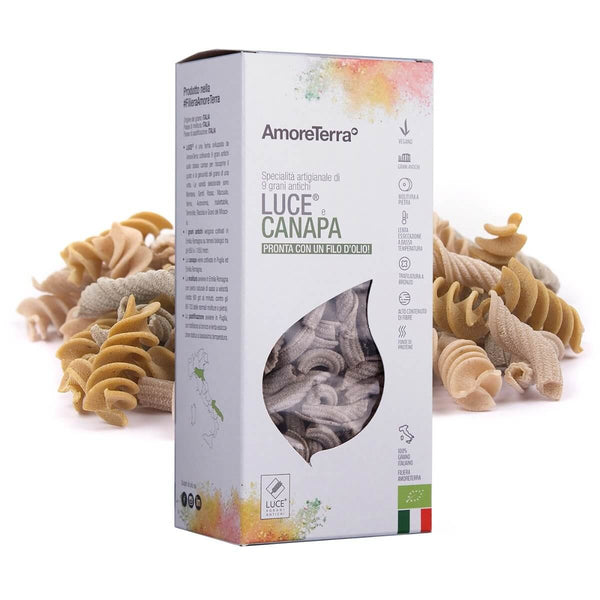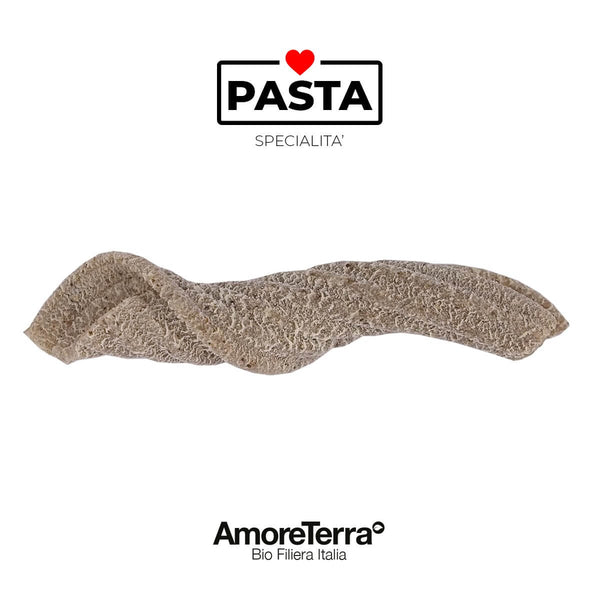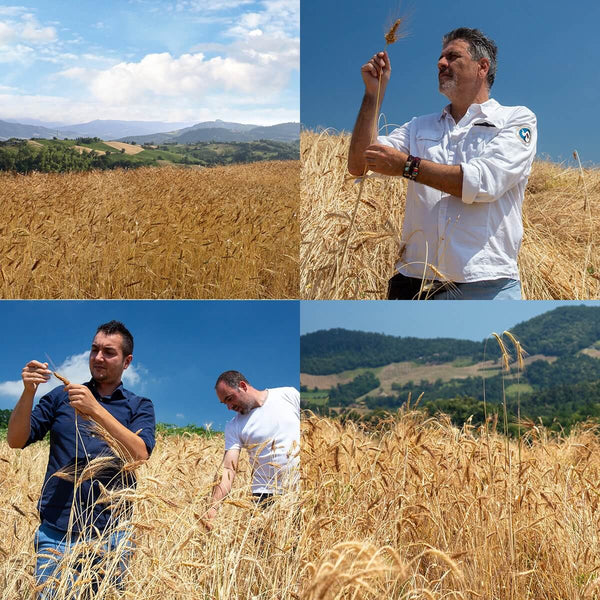 Torchietti Luce and Hemp
Net weight: 250g.
Are you looking for a pasta with a truly unique flavor? Try these 9-grain antique presses. They are prepared with Farina Luce, the flour that AmoreTerra has developed through a unique project in Italy: to cultivate 9 ancient grains on the same field in the mountains and stone-grind them.
These artisan presses are made with Farina Luce (Gentil Rosso, Mentana, Verna, Marzuolo, Autonomia, Inallettabile, Terminillo, Risciola and wheat of the miracle), flour developed by cultivating 9 ancient grains on the same field.
Ingrediants: LUCE® Type 2 flour * (85%), Whole hemp flour * (15%). - * From organic farming.
Allergens: containing cereals GLUTEN, May contain traces of SOF COURSE And MUSTARD.
Origin of the grain: Italy
country of milling: Italy
Scheda tecnica prodotto
Peso: 250 g
Certificazione: biologico
Produzione:
Filiera AmoreTerra
Coltivazioni: 
Il grano da cui ricaviamo la Farina Luce® è coltivato in Emilia Romagna su terreni incontaminati.
Pastificazione: 
Si svolge in Puglia in pastificio storico ed artigianale, trafilatura al bronzo e essiccazione a bassa temperatura così da ottenere il meglio da ogni formato.

Valori nutrizionali medi per 100 gr. di prodotto:
Energia: 1485 kJ / 351 kcal
Grassi: 1,9 g
di cui acidi grassi saturi: 0,3 g
Carboidrati: 67 g
di cui zuccheri: 3,0 g
Fibre: 7,2 g
Proteine: 13 g
Sale: <0,01 g
Metodo conservazione: Conservare in luogo fresco e asciutto.
Smaltimento prodotto:
Carta / Plastica
Verifica le disposizioni del tuo comune.
📦 Discount card from -10% to -20% 12 months.
Join the AmoreTerra family to take advantage of a discount on your carts from -10% to -20%.
valid card on the whole catalog and for all purchases that you will perform in 12 months.
CARD FOR YOU

FAMILY CARD

Shopping cart discount:

10%

Discount on offers: NO


Duration (months): 12
Max orders: UNLIMITED

Coupon cost: 10€ only once
Go to the product for purchase

Shopping cart discount:

10%

Discount on offers: AND
Duration (months): 12


Max orders:

UNLIMITED
Coupon cost: 20€ only once
Go to the product for purchase