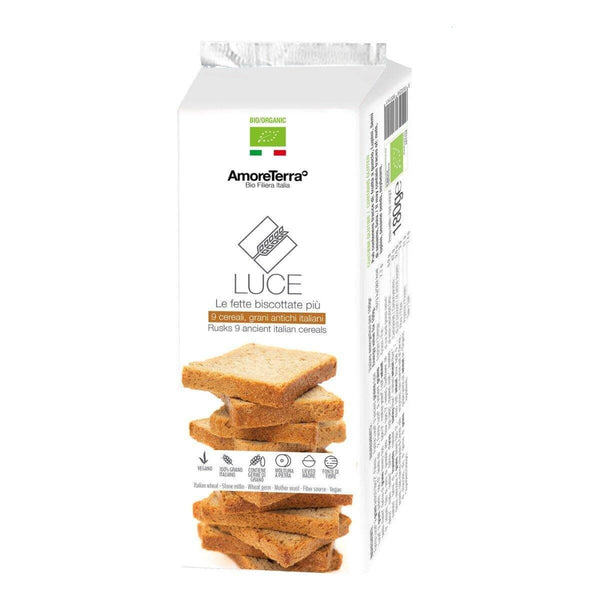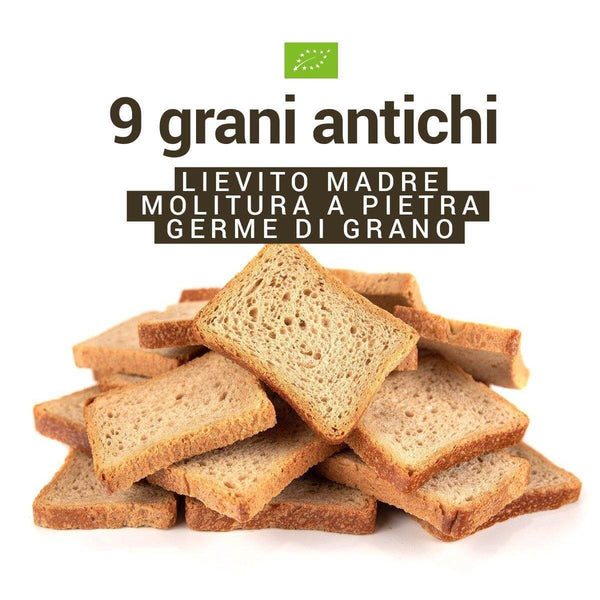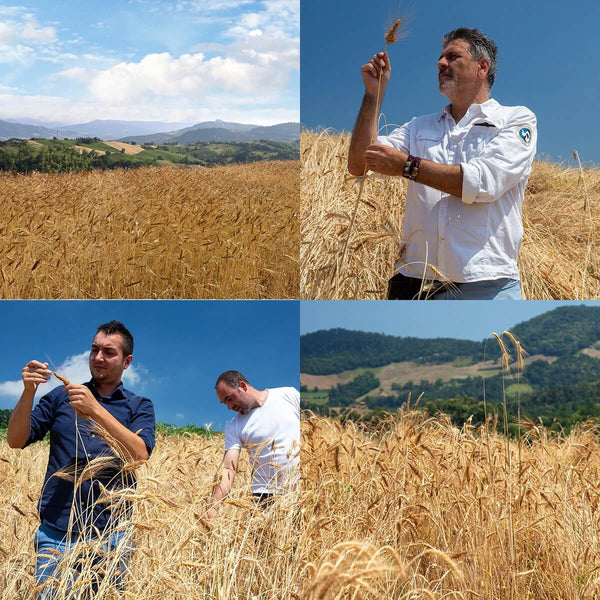 Light rusks
Net weight: 180g.
With wheat germ and mother yeast.
These slices bring with them the aromas and flavor of 9 ancient grains (Gentil Rosso, Mentana, Verna, Marzuolo, Autonomia, Inallettabile, Terminillo, Risciola and the very rare Wheat of the Miracle).
One more breakfast! with a personal taste, authentic, completely new, a vanilla aftertaste but also very natural.
The low quantity of gluten, the presence of the precious germ and the stone milling, ensure important nutritional values but above all a high feeling of well-being. It is a quality product, one of a kind.
The rusks for your breakfast more!

The packaging is recyclable in paper


Ingrediants:
"LUCE" type "2" * ancient grain flour, "LUCE" type "0" * ancient grain flour, sourdough * yeast (type "0" * soft wheat flour, water), Sunflower oil high oleic *, toasted malt * (malted barley flour *, malted wheat flour *, dried soft wheat flour type "0" *, enzymes), whole Cervia sea salt, corn oil, wheat germ oil . * Organic ingredients.
Allergens: It may contain traces of: nuts, lupins, sesame seeds and soy.
Scheda tecnica prodotto
Peso: 180 g
Certificazione: biologico
Produzione: Italia
Filiera AmoreTerra
Coltivazione 9 grani antichi:
Emilia Romagna su terreni incontaminati.
Molitura:
Emilia Romagna in mulino storico artigianale (adiacente ai campi) con pietra di sasso così da evitare il riscaldamento e lasciare inalterati tutti gli aspetti organolettici e nutrizionali.

Valori nutrizionali medi per 100 gr. di prodotto:
Energia: 1613 kJ / 382 kcal
Grassi: 7,1 g
di cui acidi grassi saturi: 0,9 g
Carboidrati: 67 g
di cui zuccheri: 2,5 g
Fibre: 3 g
Proteine: 11 g
Sale: 1,1 g
Metodo conservazione: Conservare in luogo fresco e asciutto.
Smaltimento prodotto:
Incarto + vaschetta C/PAP82 riciclabile nella carta.
Verifica le disposizioni del tuo comune.
📦 Discount card from -10% to -20% 12 months.
Join the AmoreTerra family to take advantage of a discount on your carts from -10% to -20%.
valid card on the whole catalog and for all purchases that you will perform in 12 months.
CARD FOR YOU

FAMILY CARD

Shopping cart discount:

10%

Discount on offers: NO


Duration (months): 12
Max orders: UNLIMITED

Coupon cost: 10€ only once
Go to the product for purchase

Shopping cart discount:

10%

Discount on offers: AND
Duration (months): 12


Max orders:

UNLIMITED
Coupon cost: 20€ only once
Go to the product for purchase